The Heart of Idaho's Multi-day Classics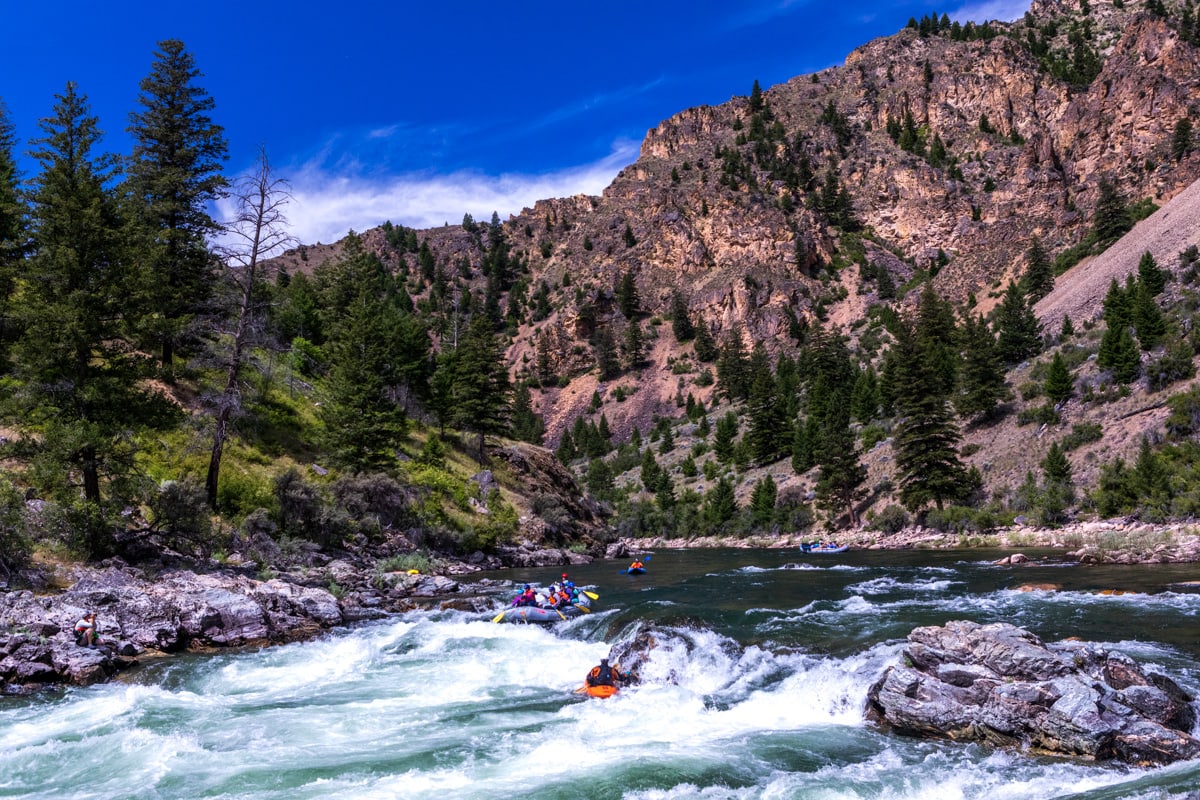 Almost as famous for its whitewater and wild, rugged, untouched scenery as the potatoes, Idaho is your one-stop-adventure-shop for all. Whether you are looking for family-friendly, beginner trips, are a seasoned whitewater kayaker or fly fisherman, a hiking enthusiast, hot spring aficionado, an aspiring backcountry foodie, or just looking to experience the great outdoors, we have custom designed-adventures to suit almost any experience level and interest. Expect to be greeted by impressive towering granite walls, deep crystal-clear water, striking Rocky Mountain peaks, towering pine and fir forests, and a range of wildlife and mountain flora that call this place home. These stunning landscapes will leave you speechless while just scratching the surface of all that Idaho has to offer.
Find your perfect trip...
For beginners, families and the "type one fun" rafters: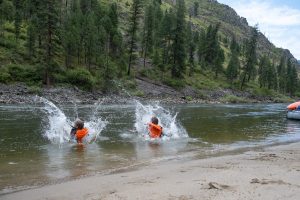 Trying multi-day rafting for the first time? Have a few kiddos or grandparents that are looking for a good entry-level trip? Like good old fashioned warm weather fun and relaxation? Look no further than our Main Salmon and Canyons of the Lower Salmon adventures, a perfect expedition for all ages and experience levels. In terms of whitewater, it's about as good as it gets, with a perfect mix of class III splashes, big, friendly waves, and flatwater sections that are perfect for those looking for a little bit of everything. These "pool drop" style of rapids allow for plenty of opportunities for people to try out inflatable kayaking, stand-up paddle boarding, or swimming in the river for the first time. Expect optimal weather during peak summer months (late June-August) with perfect water temperatures for cooling off during the hot days- all equipped with white sandy beaches that you won't believe exist in the middle of the Idaho wilderness. Squirt guns, raft slip-n-slides, beach games: these trips have it all!
For the high adventure and thrill seekers: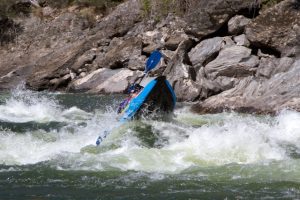 For more advanced boaters or those with an extra sense of adventure, Idaho spring run-off is the place for you. As the snow melts off of the high mountain peaks, our wild and scenic rivers ramp up, creating what river runners from all over the world come to experience: Idaho big-water. On the Middle Fork of the Salmon, the river drops a dramatic 1000 feet in elevation in the first 20 miles, and has non-stop fun and excitement, and is one of the most exciting paddle-boat runs we have. As the trip goes on, expect to continue to be surprised by big hydraulics and technical moves. Another incredible option for early season trips is for those who like to go fast, combining our Middlefork and Main Salmon trips at peak flows, traveling close to 200 miles in 8 days. If you can't pick between the two, we call this local special the Super Salmon.
For the fishing extraordinaires:
When the splashy character of the Middle Fork Salmon begins to subside as the water drops, the world-class fly fishing in Idaho has its time to shine. A destination all around the world for dry fly fishing, this tributary of the Salmon is said to hold one of the healthiest all-wild (non stocked-native) West Slope Cutthroat populations in the West. The Middle Fork Salmon's fishing season typically begins in July and goes through September, and we also have a few late season fishing-specific trips that are typically shorter than our normal 6 day adventures.
While the Main and Lower Salmon is known for its Steelhead and Salmon (off-season of when our trips run), there are plenty of opportunities for trout fishing in cold-water tributaries, or for big water small-mouth bass, Pike Minnow, and whitefish in the main channel. If you're lucky you might even spot a Sturgeon rise!