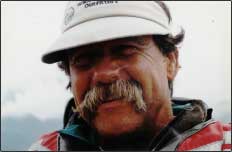 Joe and Fran started Wilderness River Outfitters in 1972 after moving to Idaho in the early 1970s.  What started as an adventure travel agency known as Salmon Mountain Travel quickly turned more to focusing on river trips and the name was changed to Wilderness River Outfitters.  Fran was the backbone of managing all the reservations and handling the office from the beginning and Joe would put together and guide the different trips around the world. Early on WRO operated in all the same states and provinces we do now, but with the addition of Chile, Peru and New Zealand.
Joe Tonsmeire, long time river runner, adventurer and friend to many of you, passed away March 9, 2007. After a bone marrow transplant in August of 2005, Joe recovered to enjoy running most every trip offered by WRO in Idaho, Montana and Alaska the summer of 2006. His awesome run through Jarbidge Falls rapid on the Jarbidge/Bruneau trip that summer is amazing and inspiring and can be viewed in the video below. Joe captained a paddle boat through the Grand Canyon on his last river trip in September, 2006 with family and friends.
Joe's passion and love of wild mountains and pristine rivers led us to many exciting adventures with many of you over the years. His enthusiasm for sharing his love of nature with others never faltered. In fact, he thrived on it. He lived life to the fullest. Most of his days were spent in the outdoors, whether on wilderness adventures, working on the ranch, climbing mountains, riding the range or chasing an elk up many a mountaintop. Joe was an adventurer; we always joked that he was born 100 years too late. Joe was laid to rest on a mountaintop on his beloved Hayden Creek Ranch in Lemhi Valley near Salmon, Idaho.
Fran Tonsmeire might not be the face that so many people remember from the years of early WRO trips, but she was always the friendly voice on the phone, sending letters, e-mails, and the like. Equally important to being out on the trips was keeping the show running behind the scenes. Fran also enjoyed getting out on the river from time to time and certainly spent many days in the outdoors and traveling in the earlier years. Besides her role with WRO, she also had a full time job raising the couple's two kids Seth and Amy.
After spending time in many hospitals during Joe's cancer treatments, usually around other cancer patients, Joe and Fran started a mosaic project in the St. Lukes hospital in Boise. This initially small project brought an arts and crafts instructor into the hospital to work with kids undergoing treatments in Boise. Once the project got going they quickly realized that they wished to do more for people dealing with the same health struggles they were, which lead to starting a non-profit called Camp Discovery to get other cancer patients and survivors outside enjoying the outdoors. River trips were a natural fit.  After the program was going for several years, the name was changed to River Discovery. River Discovery still gets cancer survivors out on different outdoor activities ranging from day rafting trips, snow-shoeing, paddle-boarding and multi-day rafting trips. WRO usually helps put on at least one of these trips each year.
After Joe's passing in 2007, Fran continued to run Wilderness River Outfitters with her kids Seth and Amy.  Although her focus did start to shift to continuing to be very involved in River Discovery, Lemhi Regional Land Trust (of which they were also founding members) and continuing their cattle ranching tradition in the Lemhi Valley outside of Salmon. She loved spending time at the ranch, usually traveling with a small pack of cattle dogs. In 2014, Fran begin her own second battle with cancer, as she was already a cancer survivor herself from an earlier bout with breast cancer.  After a hard battle throughout 2014 against CLL and other spreading cancers, she passed away the in the fall of 2014 and was laid to rest next to Joe overlooking their Hayden Creek Ranch. From their resting place above Hayden Creek, the views of the Lemhi Mountain and Beaverhead Ranges are incredible, with open spaces in every direction. From this spot you can't see a house in any direction as it is essentially surrounded by public lands and wide open Idaho beauty. Joe had often talked about retiring at this spot in a small simple cabin, even though he already lived in a log home he had built--one where you needed to start a fire if you wanted hot water or heat up the old-fashioned cooking stove to make breakfast. Retirement was probably more of a joke anyway, as there were generally far too many projects to retire between WRO and Hayden Creek Ranch.
If you would like to share your favorite "Joe Adventure" or a friendly story about Fran, we always love hearing a good story from the past! Please share a story through the contact us page.
We would like to share with you a poem written by Amy Tonsmeire for Joe:
With the pace of a mountain goat and the heart of Lion, he never stopped living – he'd rather die trying;
From the top of McKinley or thru raging falls, he's riding the range and shooting the stars;
The River it called and the trail it began, and the wind always whispered to this special man;
A figure of love, and passion and grace, blue dancing eyes and a smile on his face;
I wonder now what we should do or should say; I'll follow his tracks and cherish each day;
Well the River it called and the trail it began, and the wind always whispered to this special man.
Want to learn more about WRO?