Situated at 7,200 feet in the Bitterroot Mountain Range, the Stateline Yurt is the gateway to the expansive Lost Trail backcountry. Even as remote as Lost Trail Ski Area itself is—about a hundred miles south of Missoula, Montana—it is on the very edge of this wild tract of land, home to abundant powder and high-quality backcountry terrain that has been skied by few. With a warm and cozy wilderness basecamp, you can start your adventure early and return at dusk, rather than waste a large part of the day driving just to start your ski in.
There is terrain accessible from the Stateline for both novices and experts, varying from low-angle trees to more aggressive big mountain skiing and riding. At 8,460 feet, nearby peak Saddle Mountain offers great skiing opportunities on the Montana side of the state line, while the North Fork of the Salmon drainage contains some excellent options in Idaho. Let us know what your experience level is and what you're looking for, and we can advise you on areas to check out. The Stateline Yurt is available for rent by people experienced in backcountry travel, backcountry skiing or snowboarding.
About the Structure
The Stateline Yurt is a 20-foot diameter Mongolian style yurt located a little over a mile from the Lost Trail Ski Area boundary. The structure is outfitted with four beds, a table for food preparation, and all the eating and cooking utensils needed for your stay. There is a 4-burner propane stove, a Weber Grill, a dinner table with 4 chairs, and several other seating options. A small wood stove heats the yurt, and firewood is supplied. There are sleeping pads inside the yurt for your stay, but we do not provide sleeping bags. There is a pit toilet facility on site and on a clear day the views are unbeatable!
One Yurt
 More Backcountry Skiing Specific
Smaller Groups (up to six people)
Requires Backcountry Touring Gear
Four Person Minimum (or at least pay for four)
Easier Access to further Ski Zones from Lost Trail
 Cheaper Pricing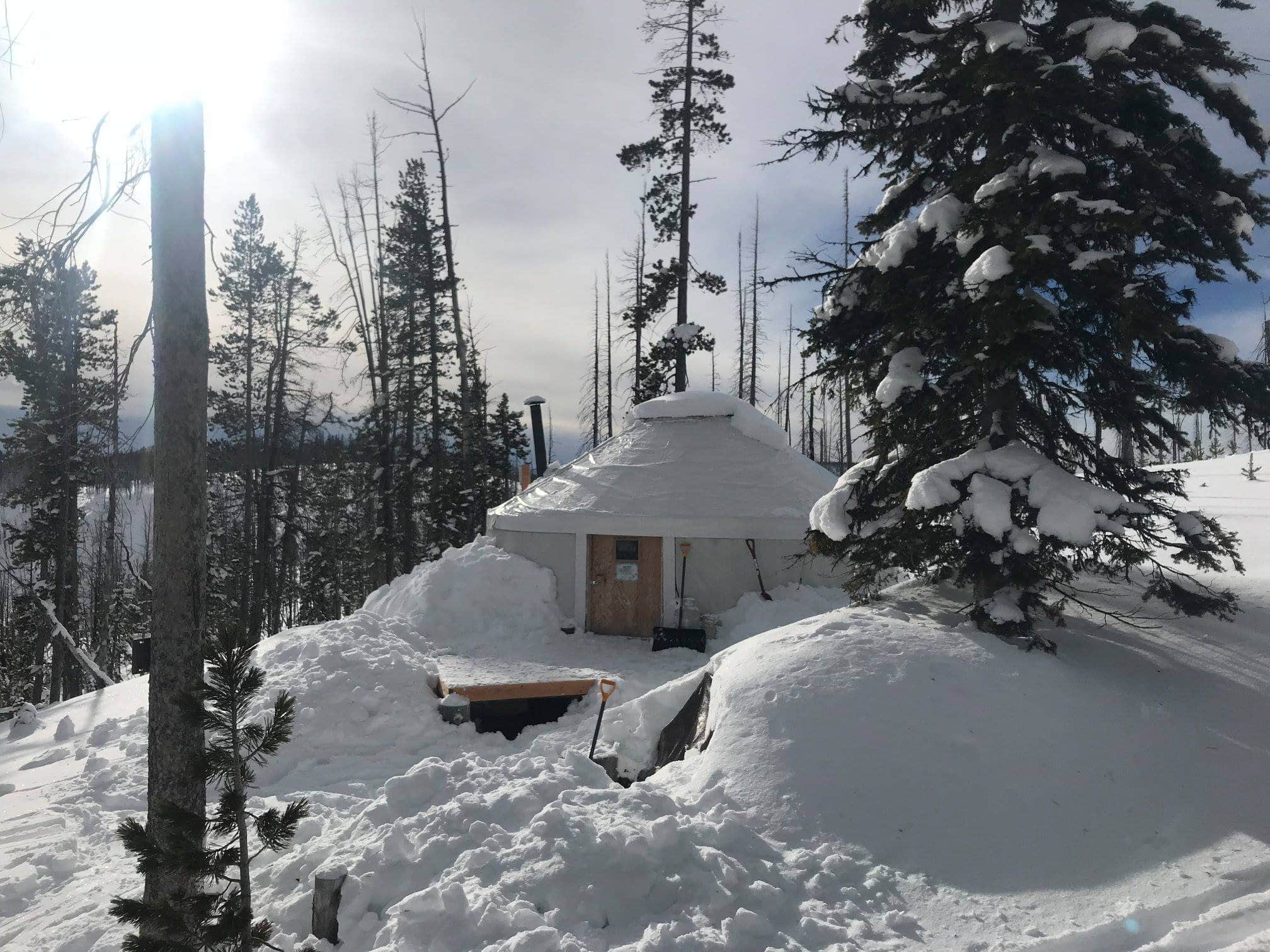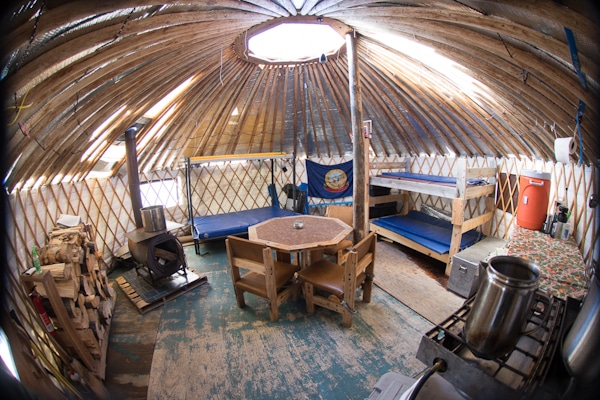 Planning Your Trip
Access
The Stateline Yurt is only accessible from Lost Trail Ski Area.
If you haven't been to the yurt before, I will meet you upon arrival at Lost Trail for a brief orientation where I'll give you detailed directions and maps. We do highly recommend using a GPS; it's not called Lost Trail Pass without reason! In a windy blizzard with limited visibility it is very easy to get turned around out there. With most cell phone providers (Verizon especially) there is service in much of the area, but it's not great right at the hut. GPS apps such as Gaia for smart phones are a good back up. (See below for more detailed map and location information.)
You will need to catch Chair 4 to get to the yurt if your reservation begins Thursday-Sunday (or during any time the ski area is operational). The lift stops running at 3:30 or 3:45, and you should plan to be there well in advance. You can purchase a one ride lift ticket for $9 during hours of operation (Thursday-Monday 9 am- 3:30 pm) or skin up from the parking lot when ski area is closed. Please factor this into your travel time and orientation plan. DO NOT TRY TO CATCH LAST CHAIR, BEING LATE CAN INTERRUPT SKI AREA OPERATIONS.
Snowmobiles are not allowed at Lost Trail Ski Area; do not plan on using snowmobiles or asking the ski area for permission.
Parking
When you turn off Highway 93 into Lost Trail, there will be a small lower parking area before the main lot, just after the fork in the road. There is a sign there, "Stateline Yurt Parking." Please make sure all vehicles are in that area. If you can see the lodge or the main parking lot, you are not in the right spot. I would recommend getting a one ride pass first, then coming back to park.
Meals
You will need to bring all your own food and beverages to the Stateline Yurt. Basic spices and oil are provided, but you will want to take any special items you may need. Metal buckets are provided for melting snow into water. Your group will be responsible for removing snow from the yurt platform, roof, and paths during your stay (shovels provided). There is a solar light system in the yurt, but bring a headlamp and we suggest you bring extra batteries. When you leave the Stateline, please take everything you brought in back out with you. Do not leave trash or food at the yurt!
Knowledge/ Experience
The Stateline Yurt is available for experienced backcountry users, as this is not a guided trip. You are responsible for your own safety in the backcountry. When skiing in the backcountry everyone should have basic avalanche gear and know how to use it: transceiver, shovel, probe, and backpack. Read the local avalanche forecast, do your own stability test and make smart choices. The winter backcountry can be extremely dangerous and you need to have the necessary skills to travel safely in these areas. All members of the party will be required to sign the yurt assumption of risk prior to renting or using the facility.
Stateline Rental Rates
$35 per person per night (4-person minimum, two night minimum)
Additional person +$30 up to six people
*prices are subject to 6% Idaho Sales Tax
*price does not include required $13 one ride lift ticket at Lost Trail if you don't buy a day pass
Making a Reservation
Book a Ridgeline Yurt
## = indicates available date.
Minimum 2-day stay. Select a start date with availability showing for following day as well.
After checkout your reservation is confirmed and your dates are reserved. You will receive a confirmation e-mail with more information and further instructions. Let us know if you have any issues with the reservation system.
For reservation support or questions please call the office at (208)756-3959. You can try to contact Jonas Seiler (yurt manager) directly during the operating season for yurt specific questions: cell (970)846-9755 (call or text).
Stateline Yurt Map Resources
For designing routes, downloading maps, and navigating around the area, we recommend using tools such as CalTopo, Gaia, or FatMap.