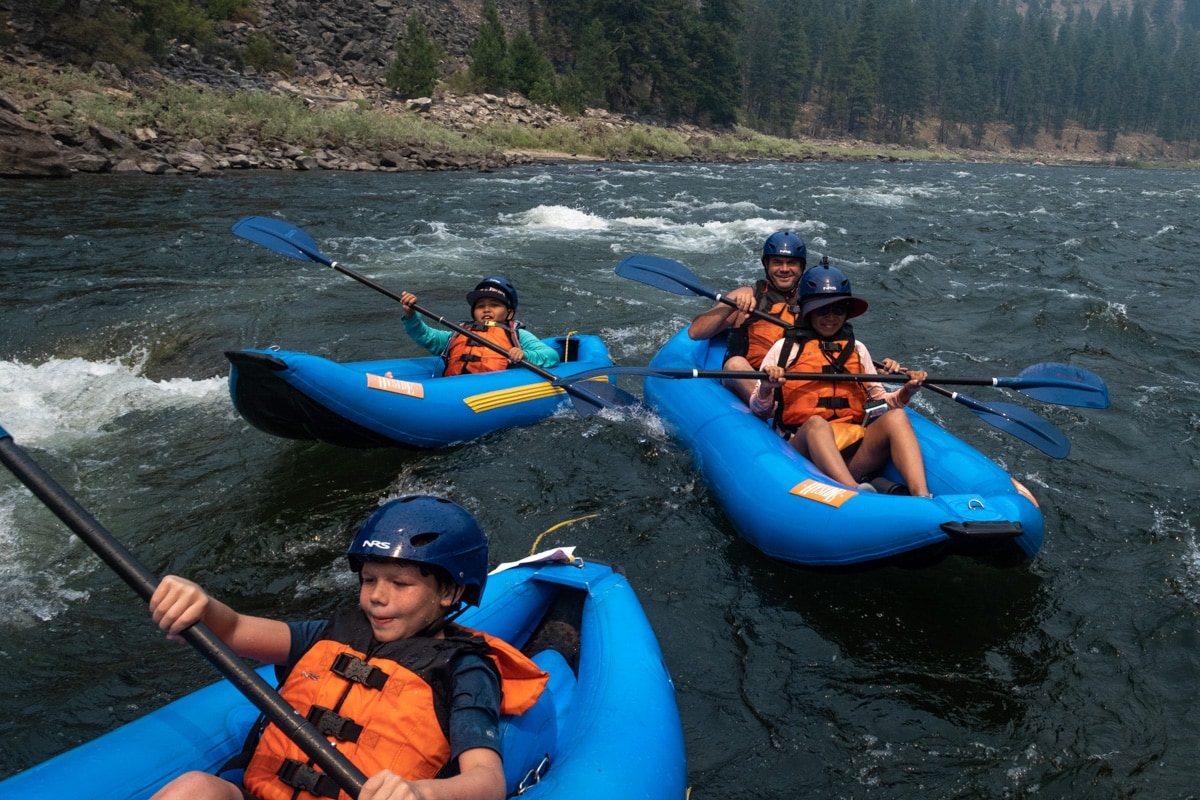 Need to unplug for a bit? Have kids to entertain? Want a vacation that grandma and grandpa can also enjoy? First time campers? Need a break from the headache of logistics and trip planning? We have the answer for you.
With our family-friendly trips, we have plenty of options for sandy beaches, splashy whitewater, giant swimming holes, time for relaxation or camp games, nightly campfires and much more- all while getting quality time with the people that matter most. There are many reasons that a week-long river trip on the Main Salmon, the Lower Salmon, or Middle Fork Salmon is the ultimate family vacation.
Why plan a river trip for your family vacation?
Unplug and connect: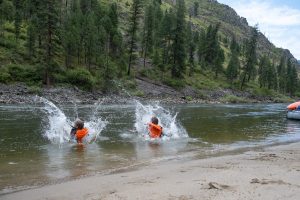 Unlike the "real world" that many of us are accustomed to, we embrace a sense of "river time" while we're out in the backcountry: free of schedule, to-do lists, distracting technology, and doing away with persistent work and life stresses. These week-long trips allow for true immersion of self and family that few other settings can provide. We all can understand how necessary and rejuvenating this type of trip can be as adults with busy lives, but it's especially salient to experience how life-changing and vital a week in the wilderness can be for our kids. 
With a world that surrounds us with screens, it can sometimes be hard to pull our kids away from their phones, iPads, social media, video games, and the constant inundation of screens. With these wilderness trips, the setting does all the work for you. Without cell phone service or access to technology (aside from photographing memories), it allows for creativity, play, and imagination to take charge again. From skipping rocks, trying out inflatable kayaking, stand up paddleboarding, rowing, fly fishing, swimming in the river, going on a hike, playing on the beach, camp games with new friends, learning about local ecology, history, and geology, or whatever else they can think up, there are endless opportunities to experience a wild outdoor playground and say goodbye to the phrase: "I'm bored."
Simple Planning and Logistics: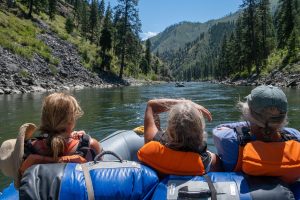 For a family vacation, planning a single night of camping can feel like a lot, let alone a whole week. Finding a permit or available campsite reservations over busy summer months can be near impossible, trying to buy and meal plan camping food for your picky family and your Uncle's new weird diet he's doing is a full time job in itself, locating what the best adventures to do around the area can be overwhelming,and  thinking about what to do if you need first aid in the backcountry can just make you not want to go at all. Or, for other non-camping vacation planning, there is always the burden of "itinerary master," contemplating activities to keep everyone happy and entertained, where to stay, how to travel, what to do next… The list goes on and on. With our trips, the only thing that is needed from you is showing up and figuring how to get home. We have the daily itinerary, meals, lodging, and safety all taken care of for an overnight wilderness experience of a lifetime.
Undivided Family Time:
Another aspect to letting go of screens, technology, and busy schedules while on a wilderness adventure is the time and space to genuinely connect with your family. Along with all of the great activities that we have planned, a lot of what is so special about these experiences are the deep, meaningful conversations and connections that are nurtured during our days on the river and at camp. With many other types of vacations, it's easy to get distracted by that urgent work email, or lost in the stress of itinerary planning, or still feel yourself and your kids spending more time documenting and posting about their trip than actually experiencing it. Allow yourself and your family to truly live in the moment with a wilderness vacation. With our versatile trips, it's easy for all members of the family to be entertained!
What are the differences between the trips? How do I choose?
While the scenery and length of trip is similar between the Lower, Middle Fork, and Main Salmon, and all give an equally unique opportunity to experience the heart of Idaho backcountry, there are some differences that make one trip more appealing based on your family's dynamics. The Main and the Lower Salmon have primarily sandy beaches for camping, with easier "pool drop" rapids and longer stretches of flatwater. These are often better options for younger children or older grandparents, as there are not as many rocky benches and there are more opportunities for swimming, inflatable kayaking, stand up paddleboarding, etc. Between the Lower Salmon and Main Salmon, the Lower Salmon has one less day, and is slightly less booked out so usually has more flexibility for smaller trips, flexible dates, etc. 
Low to mid-water Middle Fork Salmon trips are also equally amazing for a family trip, but will most likely be more enjoyable for a little older kids. On the Middle Fork, there are more opportunities for hot springs, fly fishing, and waterfall hikes, with some more technical whitewater and rocky, pine grove, style of camping as opposed to sandy beaches.
The Lower Owyhee is our only trip offered in spring, and offers a unique opportunity to experience desert canyonland scenery, very custom trips, and small group sizes. As this is an early season trip, the water and weather can be cold and unpredictable, so may be a better trip for older kids.
How old does my child have to be to participate?
This largely depends on the child's experience with rafting, the outdoors, and overnight camping trips. For the Lower Salmon and Main Salmon, we suggest 7 years as the youngest age, and 10 years for the Middle Fork Salmon and Lower Owyhee. Please feel free to contact our office to discuss your child's age if you are curious or concerned.
Can I book a trip for my whole family?
We do offer chartered trips. You often will need to plan these types of trips well in advance, as you will be booking out the entire trip for your group and need the launch date to be empty. Chartered trips must pay for the entire slot to reserve the trip, which minimum number of guests vary depending on the river you are interested in. See our "Chartered Trip Page" or ask the office for additional details on chartering a trip with us.