Wilderness River Food Philosophy
Though many people may think of hot dogs and Top Ramen when they think about wilderness camping, Wilderness River Outfitters has a notorious reputation for our backcountry gourmet cooking. While immersing ourselves into the world of minimalist adventure, there's nothing that quite compares to eating a thoughtful, hearty, fresh, and well-prepared meal with the kind of dining room landscape one can only dream up. With the accompaniment of the crackling fire, soft melodies of the river, fresh pine-scented air, and awesome company, these dinner parties are hard to beat. We believe that meals bring people together, as well as provide nourishment for the types of big adventures that we are gearing up for, and our rotating menu reflects the style of community dining and quality of eating that we strive to reflect. Our menu is full of fresh fruits and veggies, meats from our local butcher, sourdough bread from Odd Fellow's Bakery, and nourishing rotating appetizer tables. Whenever possible, we try to locally source ingredients, use organic products, and utilize farm fresh veggies from our own pride and joy, the WRO greenhouse, where we also repurpose our organic waste into compost.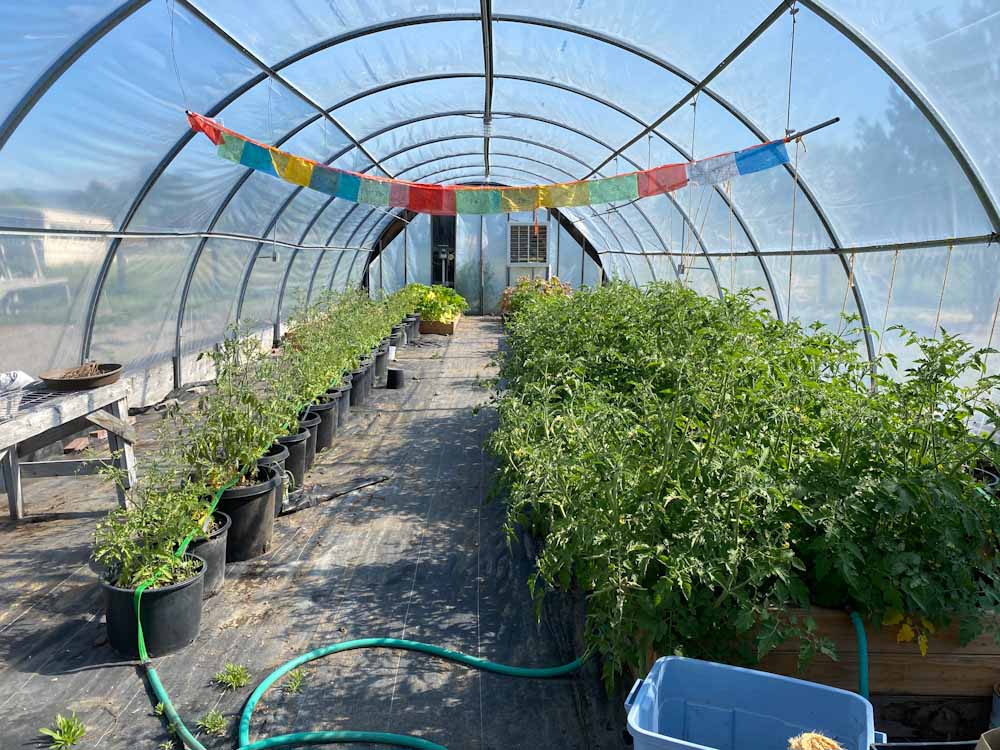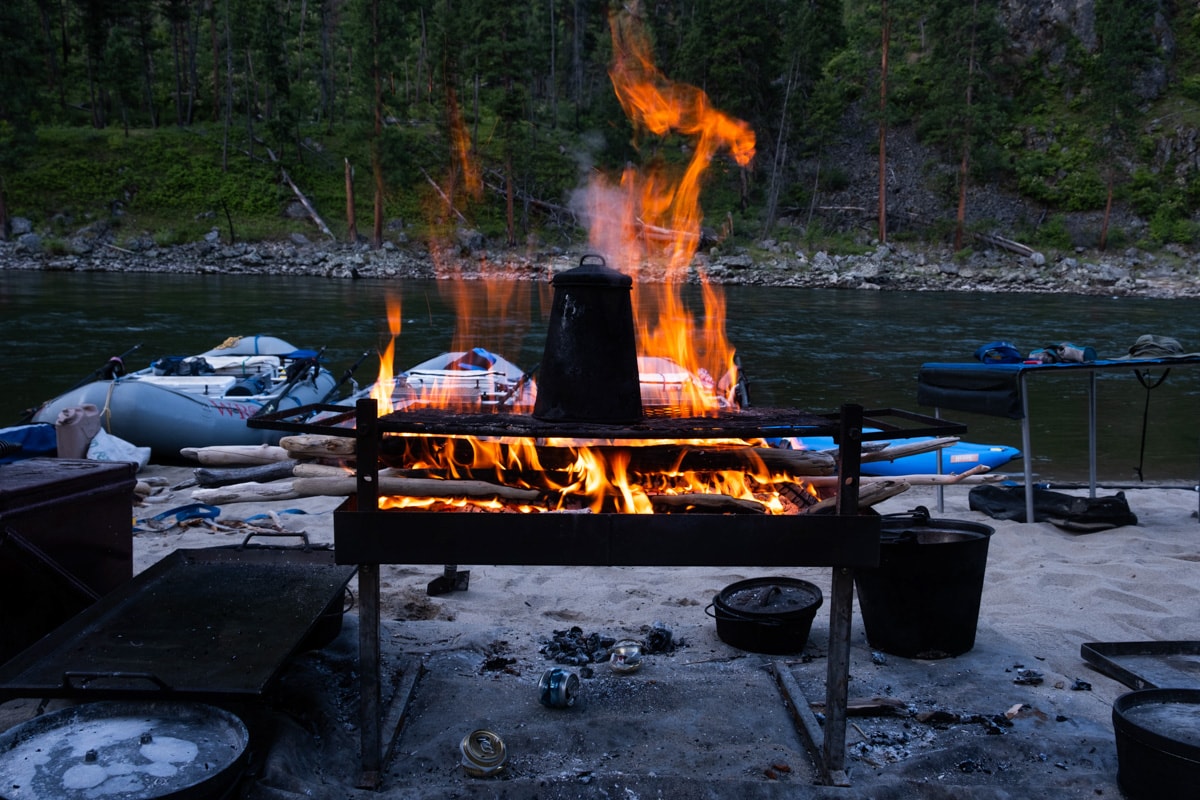 Sustainable, Open Fire Cooking
Unlike most other river companies, we pride ourselves with the use of traditional wilderness cooking methods, using open-fire whenever possible as opposed to synthetic, fossil fuel materials such as propane or charcoal briquettes. Wilderness River collects driftwood throughout the day in order to have large fires both in the mornings and in the evenings, and If we have space on our fire, you can almost guarantee we will be cooking on it. From our cowboy coffee, Dutch oven baked goods, grilled meats and veggies, and even our dishwater, we heat and perfectly cook it all over the open fire. You will experience the art of fire management with WRO, understanding the intricate ways in which our guides have mastered the process from the careful wood selection to slow coal baking and open flame heat management of grilling. In addition to enjoying high quality meals on our trips, you will probably pick up some new cooking ideas and techniques!
WRO Sample Menu
Our menu has a wide range of meals to choose from, which we rotate depending on the size of the group, availability of ingredients, the nature of the trip, and dietary restrictions and allergies. We have extensive experience with food substitutions, and will make accommodations to the menu free of charge. 
Breakfast
Odd Fellow's Bakery Dutch Oven Cinnamon Roll, Veggie Omelette Scramble, Local Bacon
New Potatoes, Fresh Veggies and Baked Eggs
Dutch Oven Huevos Rancheros with Chorizo
Kodiak Buttermilk Pancakes, Egg Scramble, Local Breakfast Sausage
Dutch Oven Spinach, Avocado, Basil Frittata
Odd Fellow's Bakery Challah Orange Zest French Toast
Build Your Own Breakfast Burrito with local meats, veggies, cheeses
Odd Fellow's Bakery Sourdough Bagels and Lox
Lunch
Turkey Pesto, Provolone, and Avocado on Odd Fellow's Bakery Multigrain Sourdough
Garden Chef Salad with local greens, dates, gouda, cured salami, fresh garden tomatoes, avocado, sunflower seeds and slivered almonds
Cold Cut Rueben Sandwiches on local Whole Wheat Rye Sourdough
Curry Chicken Salad on Odd Fellow's Bakery Croissant
Ham, White Cheddar, Arugula Hoagies
Southwestern Taco Salad with Peppers, Ground Beef, Local Greens, Sharp Cheddar Cheese, Black Beans, Garden Freshh Tomatoes, Corn Chips
Mediterranean Quinoa Salad
*Lunches also include a snack table with a rotating variety of fruits, veggies, chips and hummus, trail mixes, etc. 
Evening Appetizers
Baked Brie with Chutney Served with Apple Slices
Egg Rolls and Edamame 
Freshly Made Guacamole, Chips, and WRO "Riverrita" Cocktail
Charcuterie Board with a Seasonal Variety of Cured Meats, Fine Cheeses, Nuts, Pickled Veggies, Fruits, and Mustard
House Made Spinach Artichoke Dip
Dinner
Char-grilled Wild Sockeye Salmon served with Wild Rice Pilaf and Fresh Summer Spinach Salad
Stir Fried Chicken and Fresh Veggies served over Jasmine Rice with a House Made Curry Sauce
Sirloin Strip Fajitas with Southwestern Beans and Rice
Dutch Oven Lasagna with Mediterranean Cucumber Salad and Odd Fellow's Bakery Sourdough Garlic Bread
Fresh Cod Fish Tacos with House Made Coleslaw and Lime Crema 
Grilled Pork Chops served with Fresh Kale Slaw and Dutch Oven Cornbread
Grilled Ribeye served with Fresh Garden Salad, Odd Fellow's Bakery Sourdough Garlic Bread, and Mashed Potatoes
Dessert 
Dutch Oven Deep Dish Chocolate Chip Cookie
Salmon River Parfait served with Fresh Berries and Dark Chocolate 
Dutch Oven Brownies
Bananas Foster 
Dutch Oven Guinness Double Chocolate Cake
Dutch Oven Pineapple Upside Down Cake
Dutch Oven Fruit Cobbler
*Note: this menu is simply so you can get a better idea of the types of meals that we may have out on the river. We do not take menu suggestions, with the exception being if the trip is chartered or there are food allergies or restrictions.