No rafting or whitewater experience is necessary to book one of our trips, and we offer a wide range of adventure-types, from high-action, puckering whitewater early on in the spring, to mellow, scenic floats with gentle splashy sections. On most of our trips, we have a range of boat choices to optimize your experience and to get to try out a little bit of everything.
We ask that when booking your trip you specify which types of boats you are interested in so we have a better idea of what sort of floatilla we need to pack. Below, we have our types of boats outlined, along with which trip they are available, to give you a better idea of what kind of adventure you are in for!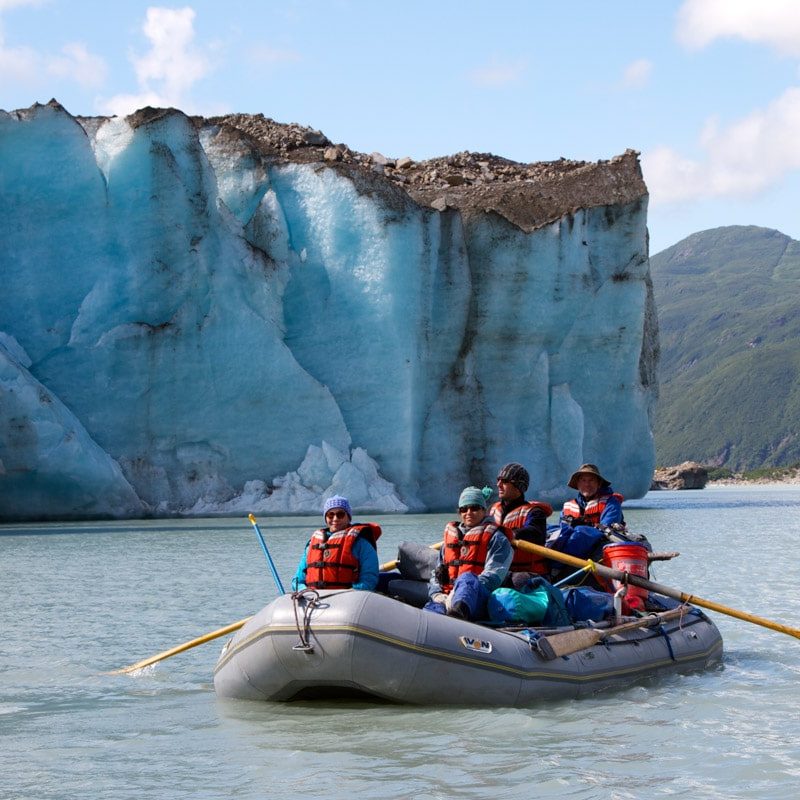 Oar boat
(Oar raft/rig, center frame, round boat)
This is our most common set-up, in which a 12-17 foot raft has a metal frame on top and is rowed by a guide. The frame allows for gear storage, and is rigged so there is a nice bench in the front of the boat for people to sit on. This is a great option for getting a chance to enjoy the scenery, take photos, and experience the individual personalities, local knowledge about the landscape, geology, history, wildlife, (and who knows what else!) of your guides.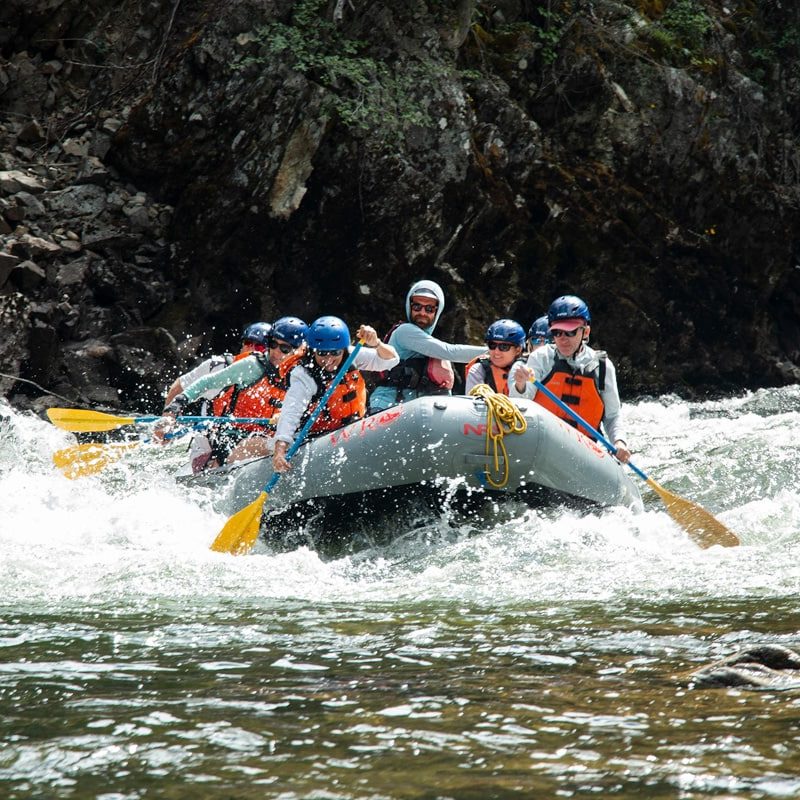 Paddle boat
A guide and guest favorite, paddle boats allow for active engagement and participation from guests. If you have rafted a day trip before, it is likely that you were on a paddle boat, in which there is no gear on the boat, and 4-6 people each have a paddle, and help to steer the boat with the help of a guide in the back giving simple instructions such as "All forward, all back, right forward, etc." These boats often get very splashy and try to take exciting lines and big hits.
All Salmon trips

All Flathead trips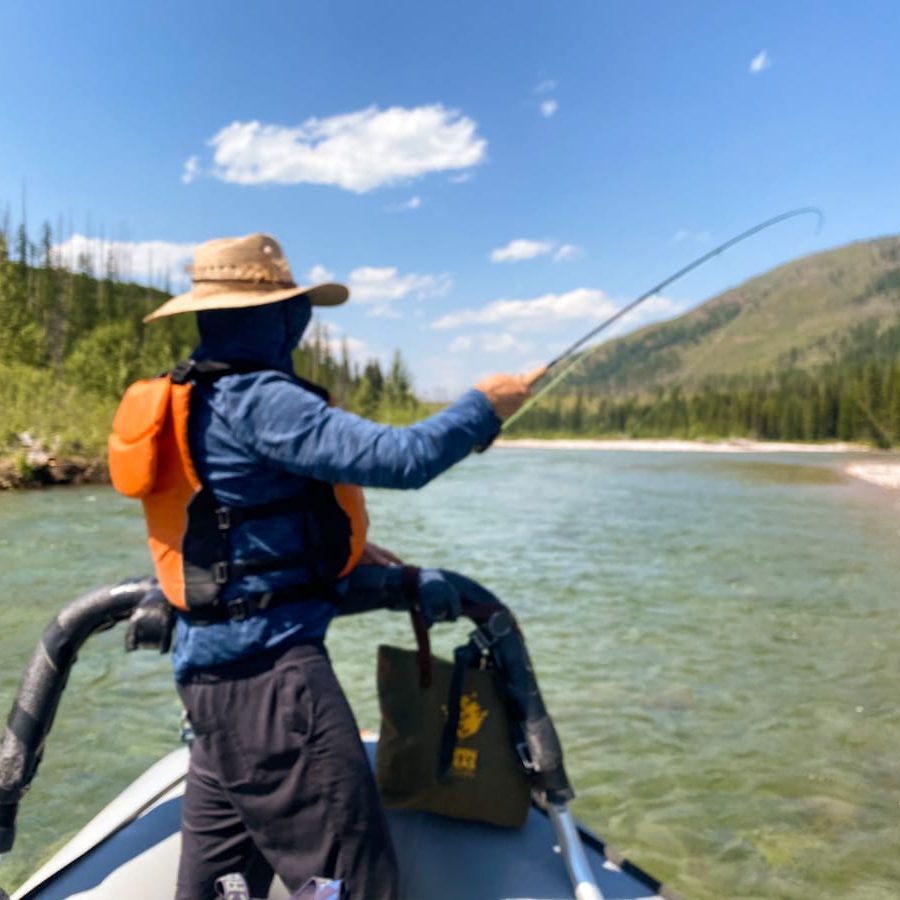 Fishing boat 
A typically smaller raft (12-14 feet) is rigged with a specific frame that allows for supported standing for optimal fishing from the boat. These frames must be requested and are typically reserved for fishing-specific trips.
South Fork Flathead
Middle Fork Salmon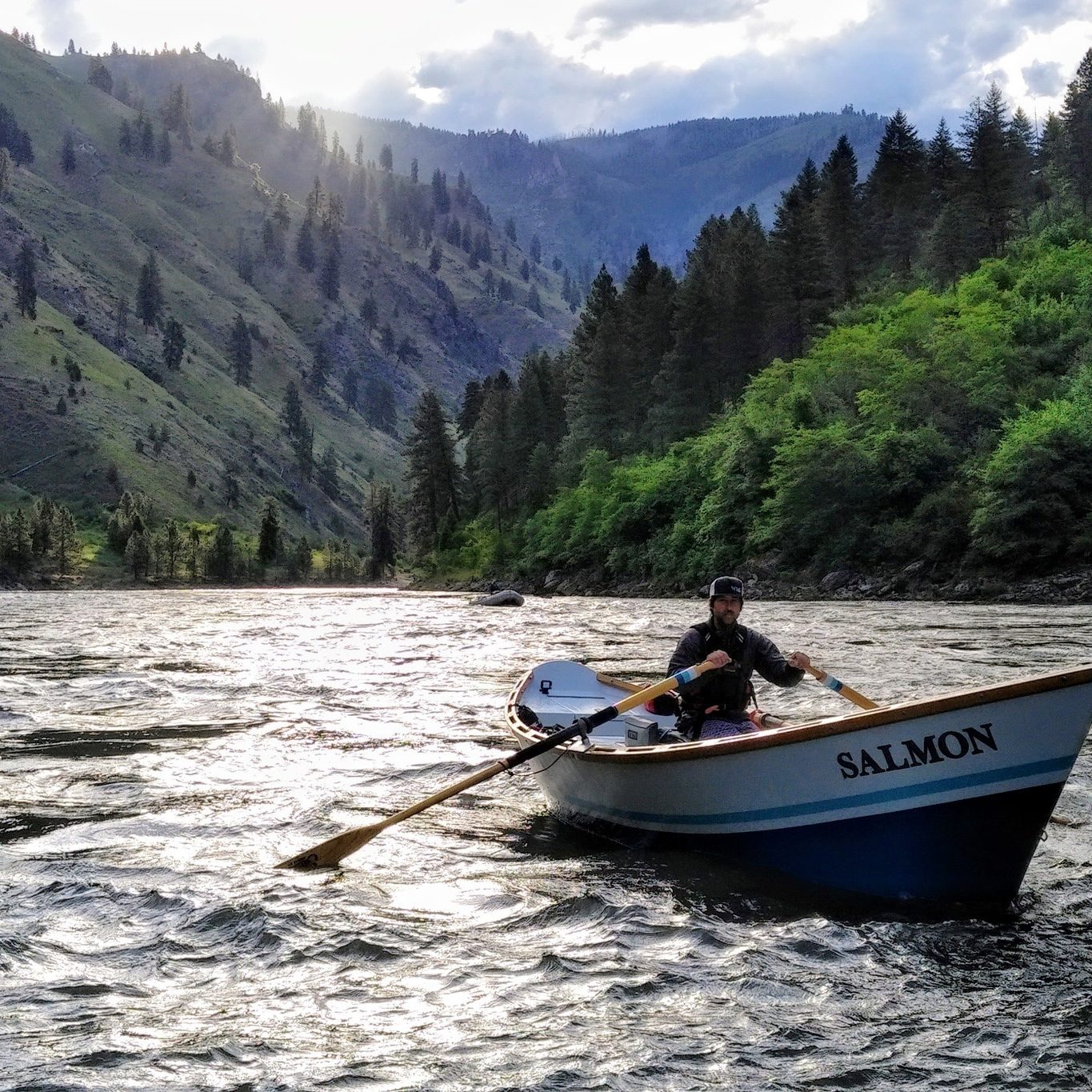 Dory
Dories are a historic river icon, in which a whitewater-design was applied to a drift boat shape, adding whitewater compartments and bailing abilities. The shape of this boat allows dories to perform like a river "sports car" with quicker, more responsive edging and movement. A very experienced guide will row this boat, and you're almost guaranteed to be one of the best looking crafts out there.
Main Salmon (Limited)
Lower Salmon (Limited)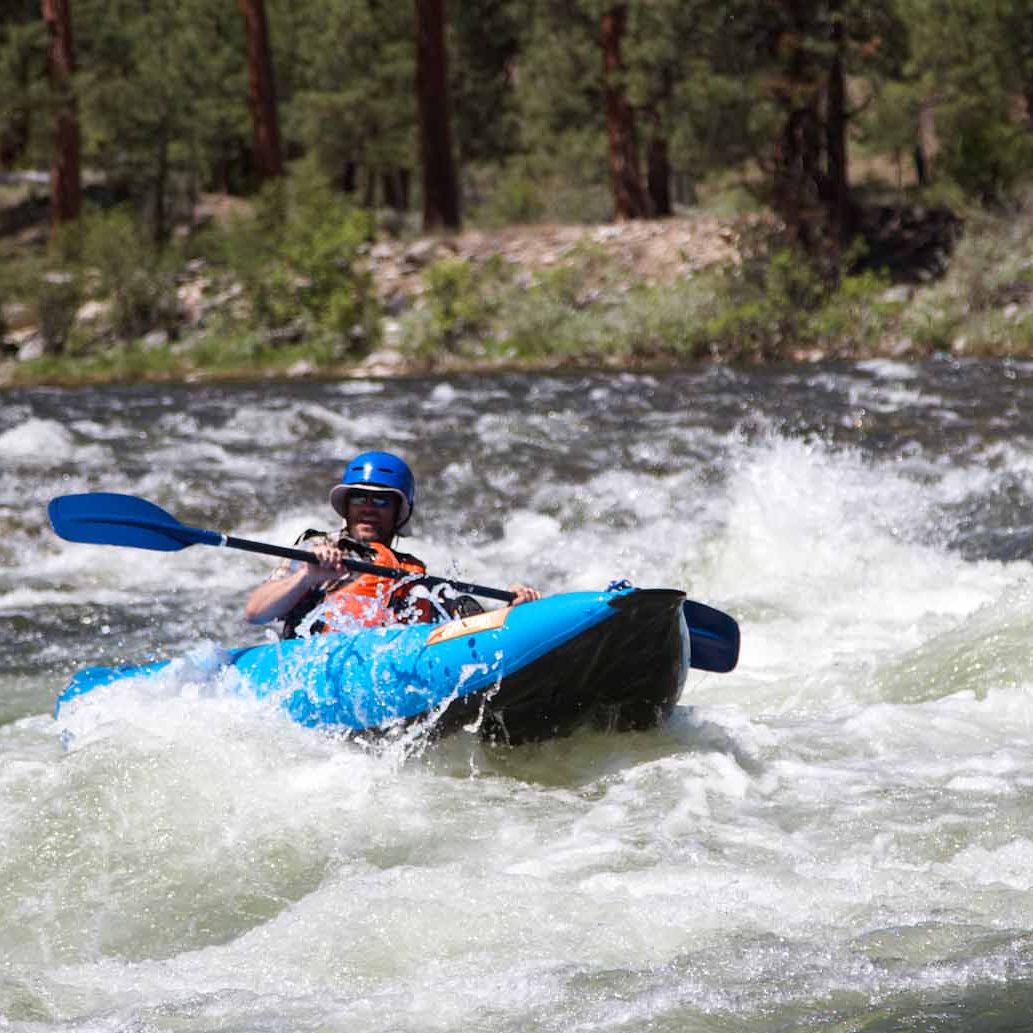 Inflatable kayak (
IK, Ducky
)
Inflatable kayaks are a fan-favorite, and allow for you to be in control of your own whitewater destiny. You will be following the paddleboat, but ultimately you are paddling and completely in charge of steering and navigating the boat with a two-bladed paddle. They are small, maneuverable versions of a sort of hybrid between a raft and a hardshell kayak. There are many options on all of our rivers to try out the inflatable kayak on easier, mostly flat sections and easy, low-consequence rapids, or intense whitewater challenges for the adventure junkies out there. We try to bring enough IK's for people to rotate in and out of, so if you would like to kayak the entire trip, you will need to specify. We primarily bring single inflatable kayaks, as they are easiest to navigate, but have a few double kayaks at the shop upon request.
All Salmon
All Flathead
Owyhee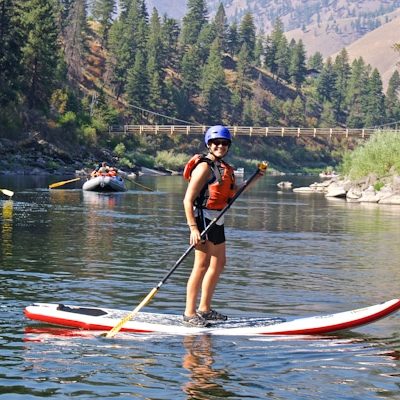 Stand Up Paddle Board (SUP) 
Stand up paddle boarding is a fun and unique way to explore the flatter sections of river and around camp. You can stand, kneel, sit (or try some crazy yoga moves), and use a single SUP-specific paddle to maneuver. Certain experienced paddleboarders have navigated down some of the easier sections of rapids. Our paddle boards are inflatable, which are easy to pack, and are the designs that most professionals now prefer.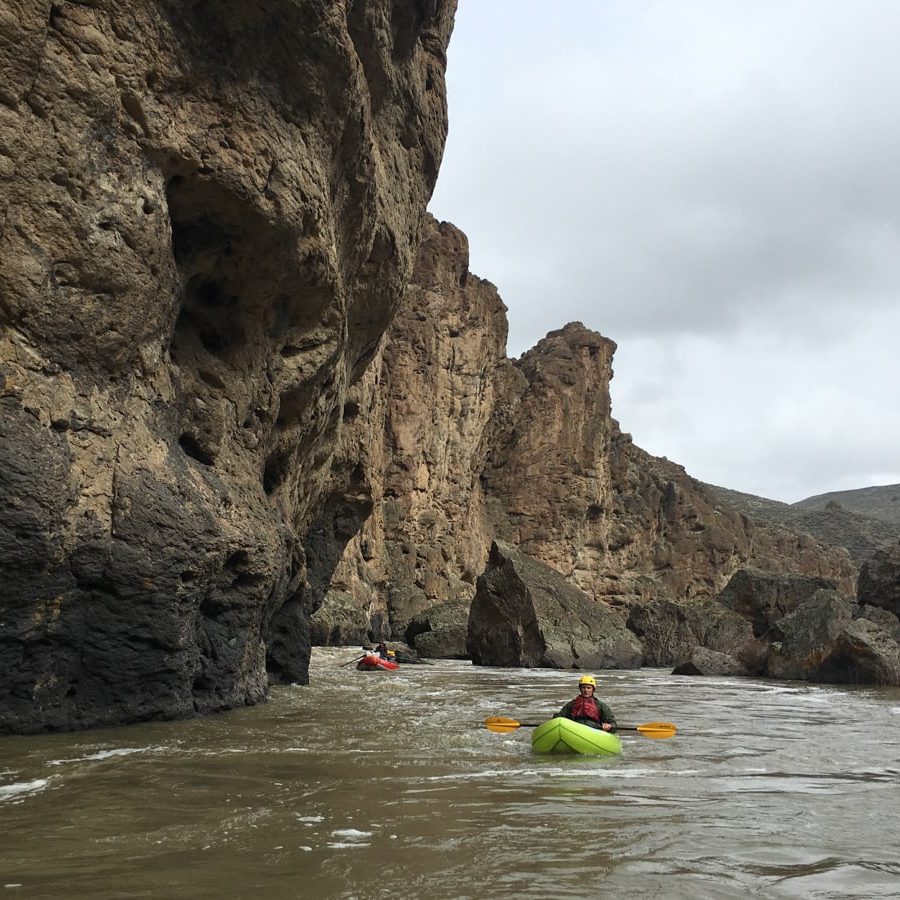 Pack raft
WRO has a small fleet of AIRE packrafts that pack down to less than 10 pounds. The material is not quite as durable as our inflatable kayaks, but is a very unique way to get to experience small, difficult-to-access trips in a way that is minimalist.
Owyhee

South Fork Flathead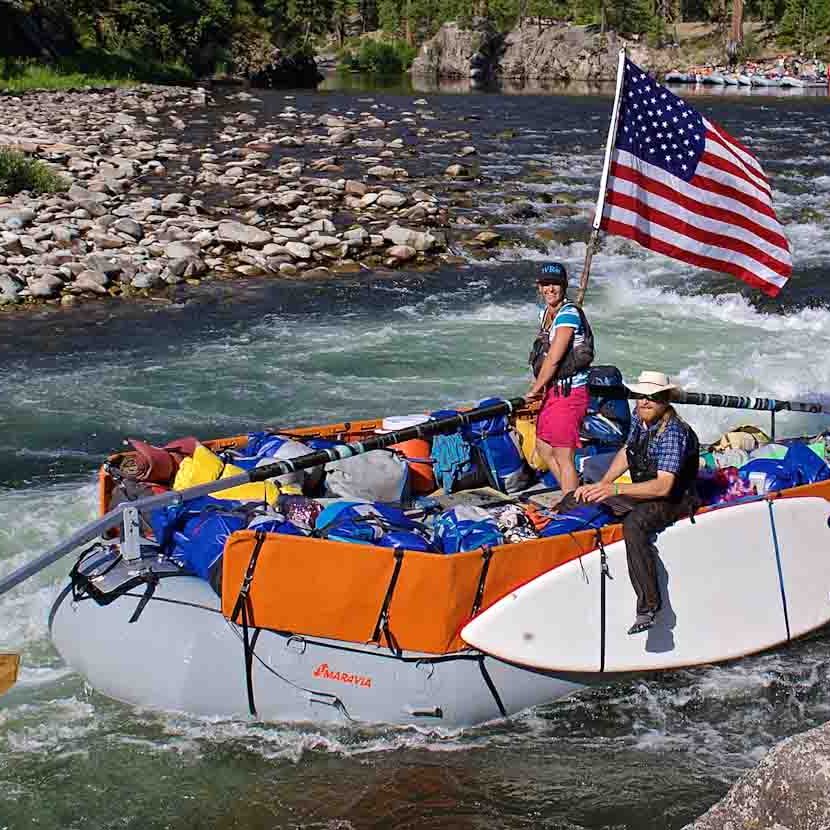 Sweep Boat
The "sweep boat" is an iconic craft run only on the Middle Fork Salmon, and is designed from a concept that originated by early river runners moving supplies on what are known as "scows." Scows were wooden, box-shaped boats that were often 20-30 feet long, and had two "sweeps" in the front and back of the boat, as opposed to having oars on either side. You cannot row a scow, but merely use the current and downstream momentum to navigate what's ahead. They are meant to be heavy and transport large amounts of gear. Today, our sweep boats are made of a more modern hypalon material as opposed to wood, but continue to use them as our gear boats, and our drivers will often go ahead to start simple camp set up.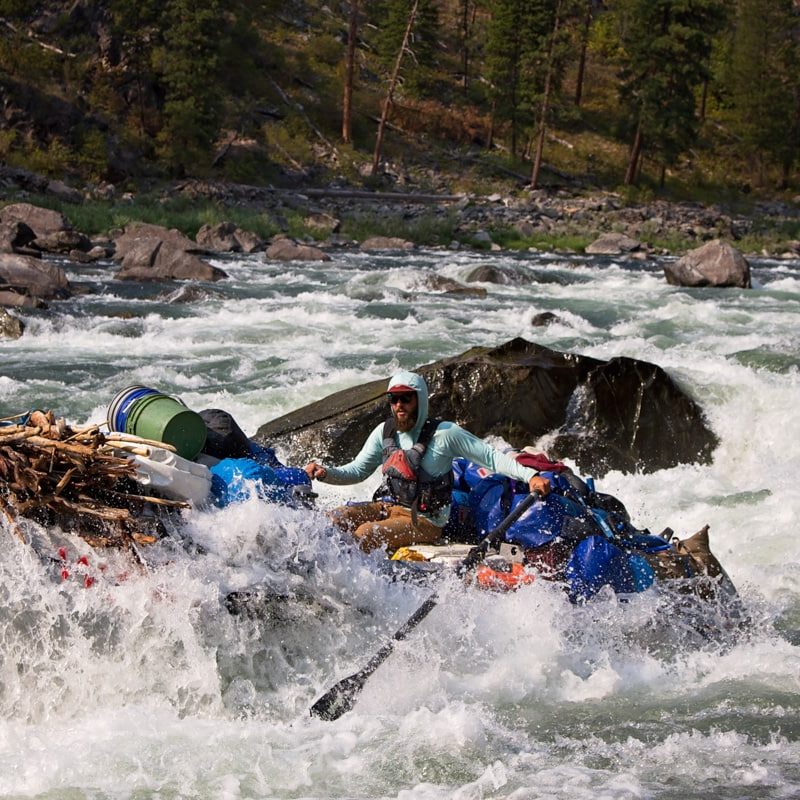 Gear Boat
Our 18 foot gear boat does not take riders, is rowed by an experienced guide, and is designed to haul extra gear. Proclaimed by one of our legendary guides to be the "most beautiful boat on the river," you'll often see this massive raft plowing through big lines and going fast downstream.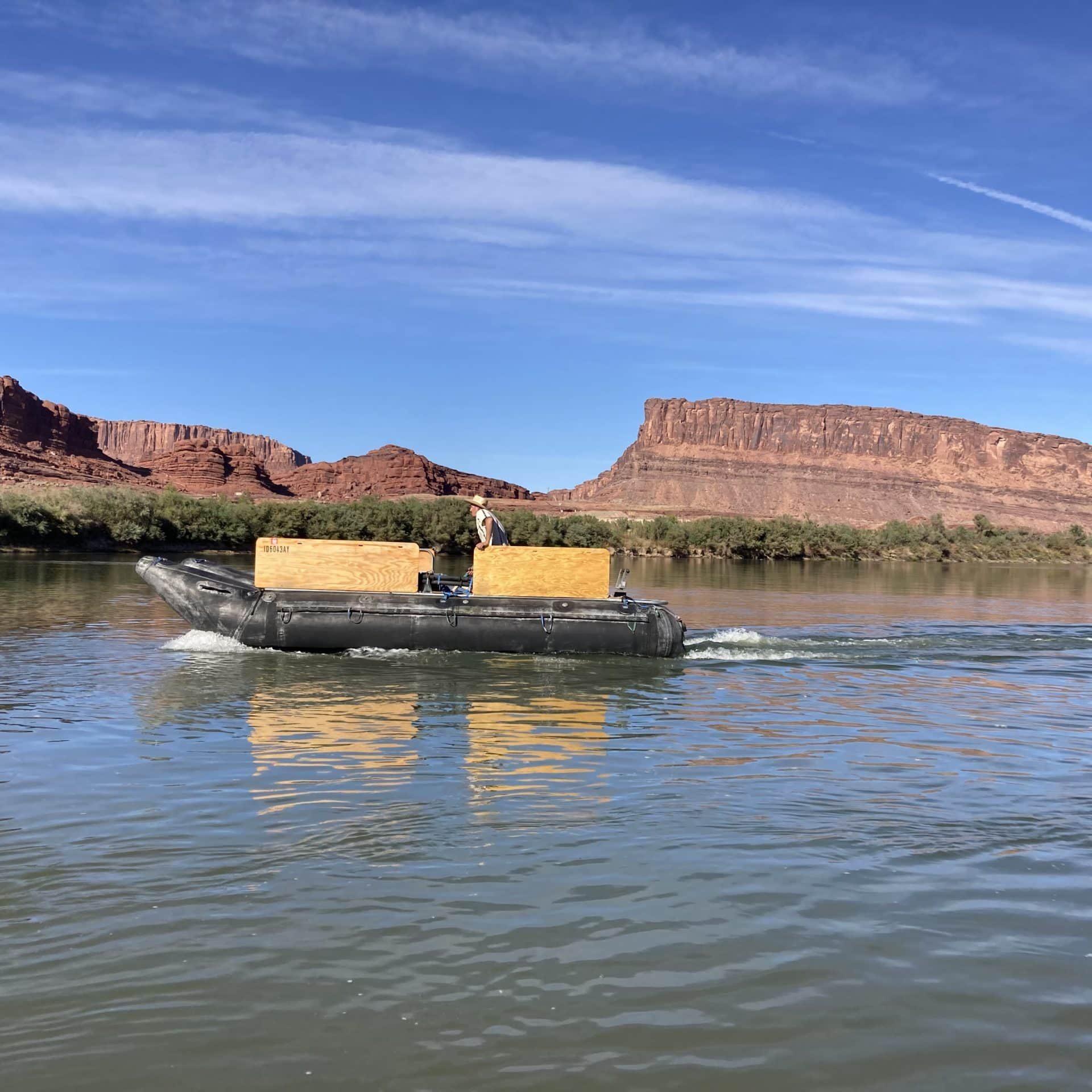 J-Rig (Motor Rig)
Our J rig resembles a sort of catamaran style, with two, military-grade inflatable tubes held together with a frame, a small, quiet gas-powered motor, and back-up oars. In fact, the tubes that we have for our J rig were actually used to make a floatable bridge for military tanks to be able to cross waterways. On long sections of flatwater, having a small motor makes our gear boaters' lives a little easier, and will often go ahead to camp to begin simple camp set-up. On the last day when we reach the confluence of the Snake River, we attach our rafts to the sides of the J-Rig, and all guests will be able to sit on the J-Rig for the last 20 miles of the trip for a truly unique experience.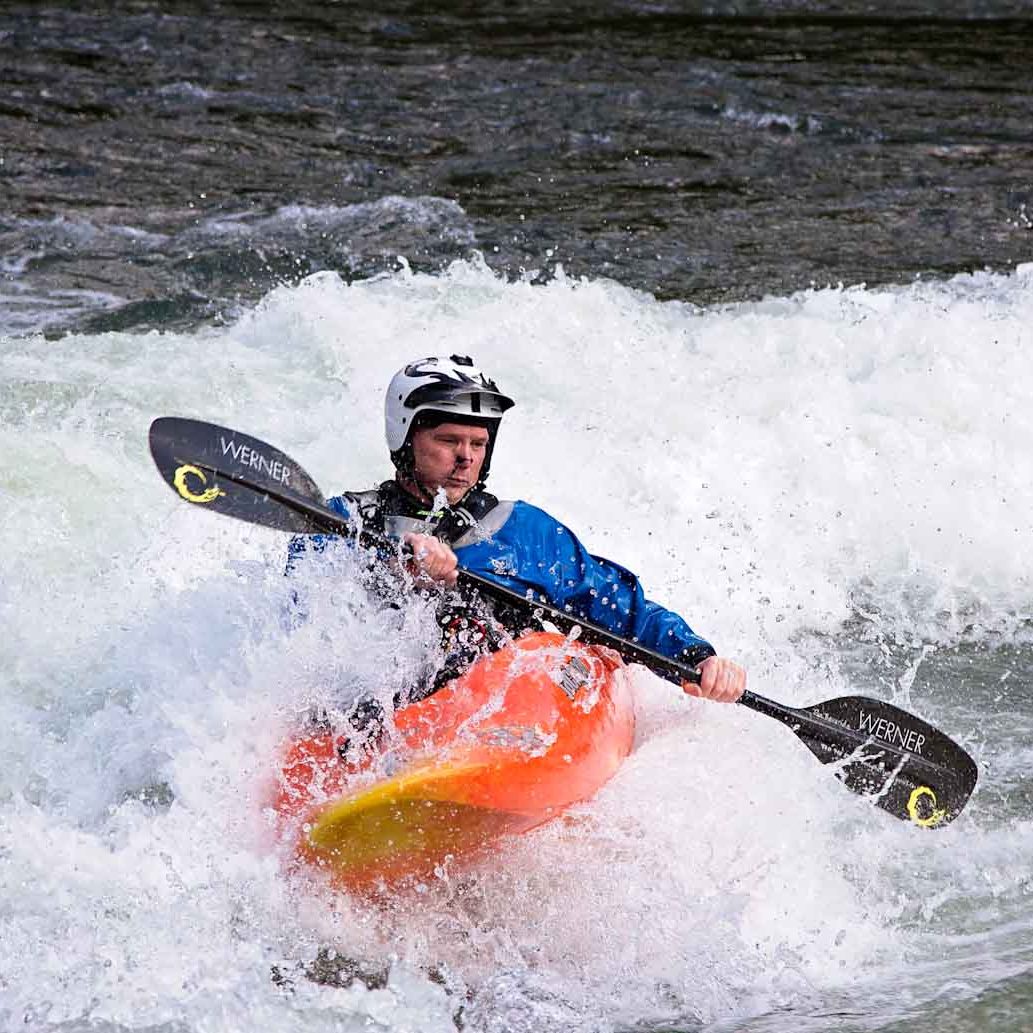 Hard Shell Kayak
Hardshell kayaks were originally made of fiberglass, and are now made out of primarily plastic. The paddler wears a "skirt" to keep water out, and is responsible for "rolling" the kayak back upright if flipped over with their body position and paddle stroke. Hard shell kayaking on our trips requires previous experience. For hardshell kayakers, we have a range of trips that are awesome for most experience levels. WRO also has a rental fleet of kayaks available for trips. For more information, see our hardshell kayaking page.