WRO is your guide to the backcountry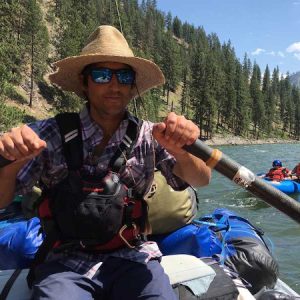 Seth Tonsmere
WRO Owner, Guide and Shuttle Driver
Seth grew up in the WRO business, spending his summers logging many river miles in Idaho, Oregon, Montana, Alaska and Canada, among other places. Now, with around 300 multi-day river trips of experience and almost 20 years of guiding, he has dedicated himself to carrying on the WRO tradition of providing quality wilderness adventures in the years to come. Seth spends most of his time during the summer out on the rivers rafting, kayaking, fishing, and sharing wild places with others. In the winter, he stays busy running the WRO backcountry skiing business and getting trips organized for the coming season.
Seth graduated from Montana State University in 2008 with a degree in Geography and a minor in Native American Studies. Seth leads many of the WRO trips and works on all the WRO rivers. Seth looks forward to sharing some of his favorite rivers with people joining WRO trips, and can be reached at [email protected] or 406.579.8677.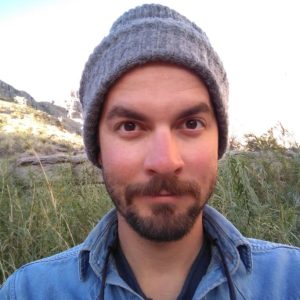 Matthew Grisham
Operations Manager
Matthew first became addicted to river trips in North Carolina, where he spent many days swimming beside his kayak on a variety of rivers. After the hook was set he returned to his home state of Texas where he began to guide canoe and raft trips on the Rio Grande in Big Bend National Park. Matthew first came to boat in the Frank Church Wilderness in 2015 in between Grand Canyon trips, and he immediately knew he wanted more. With a passion for "Old Fashioned Adventure" and a blind charisma for anything Wilderness related, it was only a matter of time before Idaho would call him back. These days, Matthew works year round as a river guide, and would have it no other way. Between river trips you can most likely find him at his home in the Chihuahuan desert, obsessing over music or riding his mountain bike.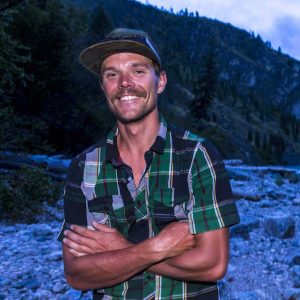 Alex Green
Guide/ Guide Representative
Alex grew up in Salem, Oregon, where he developed an early love and enthusiasm for spending life in the outdoors. Alex first started guiding river trips during the spring of 2011 in Colorado. He attended the University of Denver where he earned a bachelor's degree in sociology and psychology. During the winter months, Alex works as a professional ski patroller and EMT at Bridger Bowl in Bozeman, Montana. While not working, Alex seeks out fun times and adventure as he pursues his passions of boating and skiing in wild places.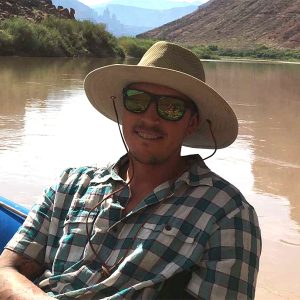 Tyler Schmittel
Guide
Tyler has worked on the rivers of Montana for almost a decade, giving him a breadth of knowledge on Montana plants and natural history. Tyler started working with WRO on the Middle Fork Flathead in the spring of 2017, and is now guiding full time for WRO. In addition to the Middle Fork Flathead, Tyler also guides on the South Fork Flathead, Middle Fork Salmon and Main Salmon Rivers. When not running rivers, Tyler spends his winters skiing and biking around Montana, Idaho, Washington, and wherever else the snow and trails call him.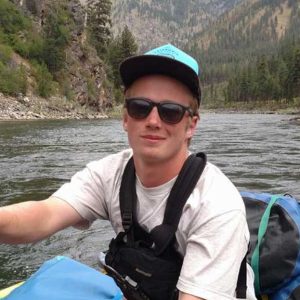 Bridger Bertram
Guide
A local from Salmon, Idaho, Bridger grew up in a boating family and was introduced to the river at an early age. He got his start guiding day trips on the Salmon River near town, and now works for WRO on both the Middle Fork Salmon and Main Salmon. Bridger graduated from the University of Montana Western in Dillon Montana with a degree in Ecology and Statistics. In the winters you can find Bridger up at Mount Baker, Washington.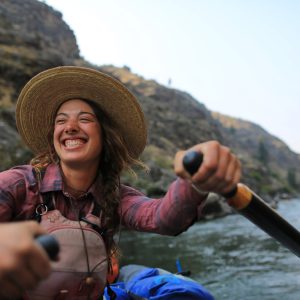 Carly Knudson
Guide/ Guide Representative
Carly is another local from Salmon, Idaho. Growing up in a very outdoorsy family, with parents who were wildland firefighters and close family friends who were river outfitters. She has spent lots of time exploring all the great activities Idaho has to offer, and especially enjoys kayaking, playing hockey, mountain biking, and skiing. Carly graduated from University of Montana in Missoula with a degree in psychology in 2019, and is passionate about the intersection between the outdoors and health. She especially loves her work with organizations such as River Discovery, a non-profit that Joe and Fran started to offer outdoor trips to cancer survivors, and the Redside Foundation, a non-profit dedicated to guide health and wellness. She first got her start guiding on the day section of the Salmon River, eventually moving on to guide multi-day trips on the wilderness section in 2015. Carly joined the WRO team in 2018, and also helps with some of the behind-the-scenes work such as developing guide resources, and some of our website/ newsletter/ blog writing. Carly is currently based in Bellingham, WA in the winters!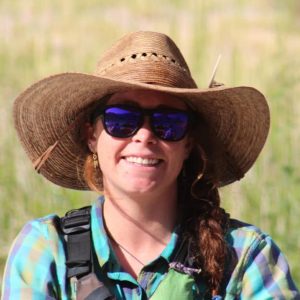 Emily Lewis
Guide
Emily Lewis was born and raised in the Flathead Valley of Montana. She grew up in the outdoors, whether it was in the mountains skiing or hiking or on the rivers and lakes of Northwest Montana. She's been rafting as long as she can remember and naturally started guiding as a summer job at Montana State University, where she earned her degree in Environmental Science. In 2009, she began her guiding career doing day trips in Glacier National Park, moving on to guide multi-day trips in Arizona, Utah and Idaho. During the winter, Emily is typically hanging around home in Whitefish, MT and working in the ski industry until the next river season begins. She can be found guiding on the Middle Fork Salmon, Main Salmon, Middle Fork Flathead, and Canyons of the Salmon with WRO.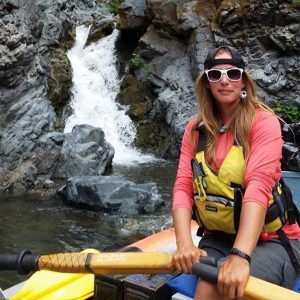 Dove Miller
Guide
Dove grew up in Eugene, Oregon and graduated from an alternative high school focused on outdoor education where she began her life long journey as a whitewater kayaker and rafter. She has guided all over the Pacific Northwest for nearly 20 years. She is a year round paddler and spends her winters in the southern hemisphere in beautiful Southern Patagonia, Chile. She studied botany and has a love for plants and ecology. Dove feels most at home in the wilderness.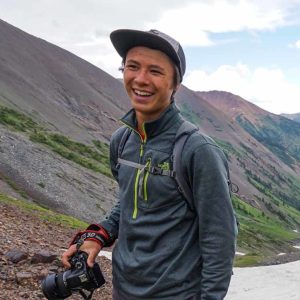 Nyima Ming
Guide
Nyima grew up playing in the mountains in Crestone Colorado, a small town nestled in the San Luis Valley. From a young age, his dad introduced him to skiing and rock climbing, which quickly became life-long passions. It wasn't until a little later in life that Nyima discovered the magic of rafting during a Main Salmon trip in high school. From that point on, rafting became a huge passion that eventually turned into a career. When the rivers are too cold to run Nyima can be found attending Westminster College in Salt Lake City, skiing, climbing, biking, and believe it or not, occasionally in the library studying! Nyima guides on the Main Salmon and Middle Fork Salmon for WRO.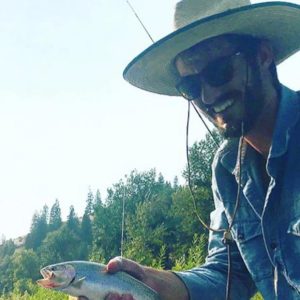 Jonas Seiler
Guide / Winter Yurt Manager
Jonas grew up in Steamboat Springs, CO, while spending his summers near Copenhagen, Denmark. With an affinity for fishing, boats, and skiing, spending time on rivers fly-fishing and rafting in the mountains was natural for him from a young age. Jonas attended Colorado State University, where he began guiding on the Cache La Poudre River. After graduating with a degree in Natural Resource Recreation & Tourism in 2014, he felt drawn to Idaho's mountainous interior. Following some life changes, he landed in Idaho for the 2016 season and has made it his home ever since. Most recently, Jonas has spent his winter working for Idaho Conservation League in the fight to restore Idaho's Salmon and Steelhead. After guiding in Idaho for several years, he joined the WRO team in 2020. Jonas looks forward to another great river season casting flies, paddle boating, and trading stories on Idaho's best rivers. You might even get the odd Danish lesson! Jonas currently guides on the Middle Fork Salmon, Main Salmon, and Canyons of the Salmon.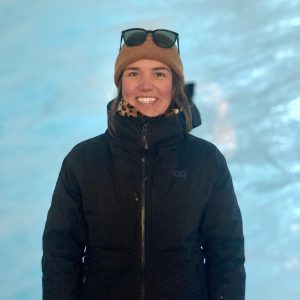 Tessa Sever
Guide/ Food Pack Extraordinaire
Tessa is another Salmon, ID local, and grew up working on local multi-day sections from a very young age. She has over a decade under her belt on the Salmon River, and still never gets tired of it. Tessa graduated from Westminster College in Salt Lake City with a degree in Geology and Outdoor Leadership, and can most often be found looking for rocks in her free time when she's not skiing, biking, fishing, or hiking. Tessa joined the WRO crew in 2020 and is also the owner of Beaverhead Gear Exchange (which you can check out at our office while you're in town!)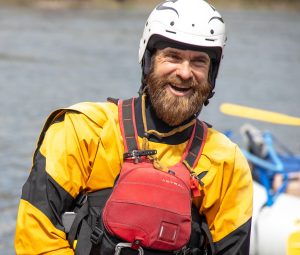 Andrew Hawley
Guide
Andrew was first exposed to river travel during family camping and canoeing trips in the Midwest and Canada. After finishing up his undergraduate studies at North Carolina State University he spent the remainder of his 20's chasing summer and crafting his river guide skills. Andrew got the opportunity to work on world class rivers such as the Futaleufú, Zambezi, Pacuare, Gauley, New, White Nile, Marañón and even ran a small rafting & kayaking outfitter in Guatemala for a few years. His passion for paddlesports and teaching has led him to his current role as a faculty member of the Oregon State University – Cascades Tourism, Recreation and Adventure Leadership program where he gets to inspire and educate the next generation of hydro-therapists. Andrew is looking forward to sharing the magic of river life with the WRO family & friends.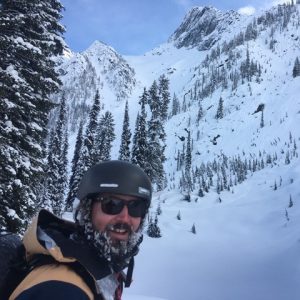 Will Findell
Guide
Will Findell grew up outside Steamboat Springs, Colorado on the banks of the Elk River. He spent much of his childhood on rivers, from being a toddler on his family's raft to falling in love with kayaking as a teenager and eventually beginning his guiding career on the Colorado River in Utah. In between river seasons in Utah, Will earned a BS in resource conservation from the University of Montana in Missoula. From Missoula, he began exploring the rivers and mountains of Idaho and western Montana, and still can't get enough, maintaining an ever growing list of new rivers to run and peaks to ski. He has been guiding rivers for nine years and is excited to join the WRO team this year.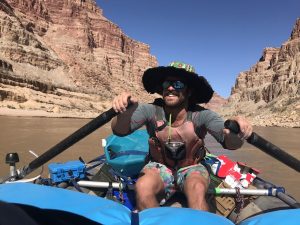 Vince Roubitchek
Guide
Vince grew up in Chicago, Illinois and moved out West to explore the great mountains of the west to pursue a degree in business at the University of Montana in Missoula. He started river and mountain guiding in 2010 in Glacier National Park, and joined the WRO team in 2020. In his off-season, Vince can be found traveling, exploring in his van, biking, skiing, or bowling.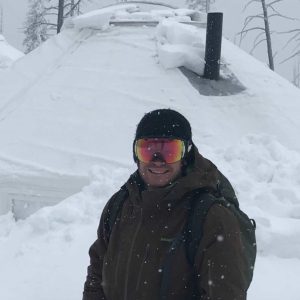 Jon Green
Guide
Jon is another local on the WRO team, hailing from right here in Salmon, Idaho. Jon has been guiding and running rivers in Idaho for over 20 years, and has also spent time teaching Idaho history in the neighboring town of Challis. His local knowledge and extensive guiding experience make him a pleasure to spend time with on the river, and he's also a stellar teammate when it comes to running challenging whitewater! In the spring, Jon guides on the Owyhee and Jarbidge-Bruneau Rivers with WRO, and in the winter he helps with our winter yurt skiing operations. When not floating rivers around the state of Idaho, Jon can generally be found outside somewhere, either hiking, hunting, fishing, or spending time at his property a few hours drive into the mountains from Salmon.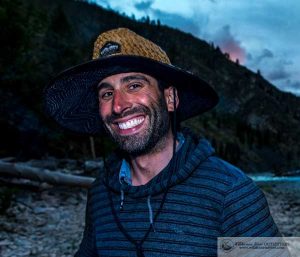 PJ Moran
Guide
Peter Moran, or PJ, started guiding trips with WRO in 2013. Whitewater kayaking has been a major part of PJ's life from a young age. His passion for whitewater kayaking has taken him on travels not only around Idaho, Montana, and the Pacific Northwest, but to other countries and continents as well. PJ has spent over ten years as a rafting guide, with many more years of river experience before he began guiding professionally.
He spends his winters as a professional ski patroller at Mt. Baker Ski resort in Washington. Being on pro patrol requires high levels of first aid (Wilderness EMT) and high angle rope work for rescues, which are also great skills to have as a river guide. PJ guides on both the Middle Fork and Main Salmon.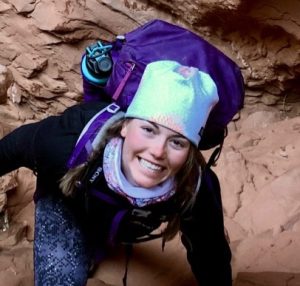 Destrey Enders
Guide
Destrey was raised in Ogden, Utah and got her start guiding on the Kennebec river in Northern Maine as a college summer job. She immediately fell in love with the river and since then has spent time guiding in Maine, Utah, Colorado, and most recently, Idaho. At Colby College, she studied European Politics with a minor in education, and she is currently working on her nursing degree. Winters take her to Snowbird, Utah, where she works as an alpine ski racing coach. Skiing and mountain biking are two activities Destrey enjoys, but she just generally loves being outside!
Addy Gesteland
Guide
Addy grew up in Salt Lake City, Utah spending much of her childhood exploring down in the desert or up in the mountains. Addy first started guiding in 2018 on the Upper Main Salmon in Stanley, Idaho, and joined the WRO team in 2022. She fell in love with the river and the way it puts you right in the present moment. She sees rivers as being one of the most amazing ways to explore new terrain and connect with our environment. Addy recently graduated from Westminster College with a degree in Public Health. She spends her time skiing, mountain biking, traveling and writing in the off season. She is passionate about spending time outside, people, and protecting the ecosystems we get to live and play in and hopes to share her passions with others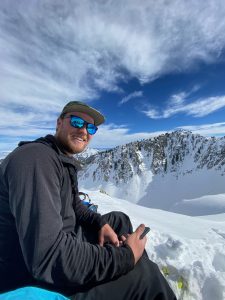 Charlie May
Guide
Charlie has been running rivers since the age of 5, as his dad was a guide on the Yampa and Green rivers in Dinosaur National Monument before he came along. Family river trips every summer were the norm. In 2015, Charlie started his professional rafting career guiding on the rivers bordering Glacier National Park. His passion for the outdoors, the rivers and the wild areas of the West gives him many opportunities to share these loves with others, especially those new to river running. His goal as a guide is to create memories for each client that remain with them long after the trip is over. He believes river trips are so much more than whitewater. It's the beauty of the river, the peacefulness, the meals, the stories, the camaraderie and the friendships that keeps him coming back year after year. Charlie has his bachelor degree from the University of Utah, majoring in Health Promotion and Education with an emphasis in EMS and Wilderness Response. During the off season I enjoy shredding the slopes of Alta and Snowbird with friends, traveling, fly fishing and mountain biking.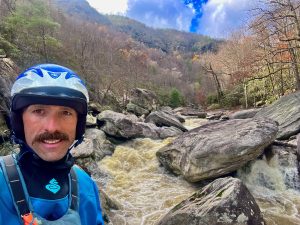 Mike Bone
Guide
Mike Bone grew up as a saltwater kid; fishing, surfing and boating in the murky rivers and estuaries of Charleston, South Carolina, catching his first wave on a surfboard around age 10. (So pitted!) While attending college at Clemson University, earning degrees in civil engineering and hydrogeology, he discovered the whitewater kayaking club as a way to get back in the water, in the mountains of western North Carolina. Kayaking and rafting whitewater rivers very quickly became a passion and addiction, which led Mike to Aspen, Colorado in 2012, where he quit his "real job" and took on a new career as a professional ski instructor in the winter, and a professional river guide in the summers. Mike skis about 140 days per winter and is an avid backcountry skiing enthusiast, who is currently attending school at the American Alpine Institute, seeking certification as a professional alpine mountain guide and AMGA ski guide. He is also an aspiring photographer who loves capturing the beauty of the landscapes of the mountains and river canyons. When he isn't skiing, whitewater kayaking, or guiding raft trips in remote river canyons, you can find Mike wandering the continent in his van, flying his paraglider, mountain biking, picking the guitar, or looking for that next remote mountain trail run. Mike loves sharing the solitude of the wilderness with his guests and clients, and also loves the thrill and adventure of the immersive experiences that we all share in the wild. Mike "believes that love can save the world!"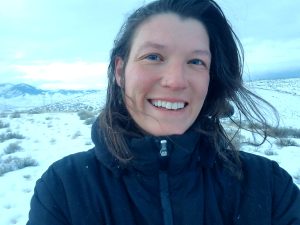 Sara Sweeney
Sara grew up in NE Washington and was exposed to Idaho/Montana recreation from an early age. Experiencing the raw beauty of these wild spaces as a child left a tangible mark on her heart and she now calls Salmon, Idaho home. Sara has been an Idaho river guide for over a decade, first guiding while she was attending the University of Idaho where she received a Bachelor of Science in Outdoor Recreation. In the fall, she works for backcountry hunting outfits cooking/packing stock, and in the winter explores her artisic gifts, Reiki practioning services, and is also a volunteer ski patroller on the local mountain. Sara loves sharing our wild natural world with others, philosophizing on boats, enjoying this beautiful life, and sharing stellar hugs!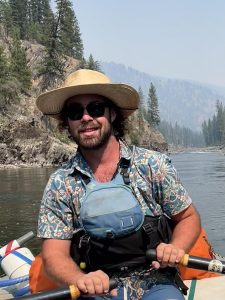 Issac Sussman
Guide
Isaac grew up on the Olympic coast of Washington. Surrounded by mountains, rivers, and oceans, he developed a passion for spending time playing and working in the wilderness. Isaac's guiding career started in the Cascades of Washington and Oregon as a summer job while attending Western Washington University to study Journalism and Political Science. Soon into his first season he recognized river guiding to be a lifelong pursuit. Off the river, Isaac can be found rock climbing, backpacking, snowboarding, or reading a book on the beach. He spends his winters working on and around the slopes of Mt. Baker, Washington.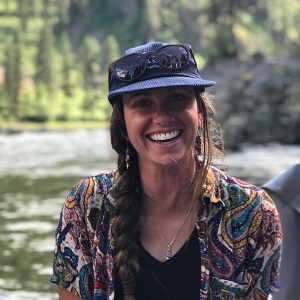 Cayla Sanderson
Guide
Born and raised in the small town of Page, Arizona, Cayla had no choice but to love the outdoors. Her family spent many summers on the Colorado River and Lake Powell, enjoying water sports and camping trips. After completing her bachelor's degree in Geography at Portland State University, Cayla moved to Idaho to become a river guide in the summer of 2013 where she has worked ever since. Guiding is so much more than a 'summer job', being able to show others the true raw beauty of nature is what she lives for as a guide. Cayla joined the WRO team in 2022. When Cayla is not rafting she is kayaking, exploring her new home, Salmon, ID and painting! Check out her art at www.caylasanderson.com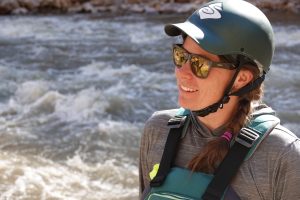 Sally House
Guide
Sally grew up in central Colorado where she was raised with a great respect for the outdoors by skiing, rafting and playing outside with her family. After studying Fashion Design in Los Angeles she decided the fashion industry wasn't for her and decided to try guiding daily trips on the Arkansas River in Colorado. She has been guiding off and on for the past fifteen summers. Most recently guiding on the Green and the Yampa river through Dinosaur National Monument. Sally is excited to join WRO this season and ready to share the beauty of Idaho's wild rivers with WRO's friends and family. In the winter you'll find Sally in Steamboat Springs, Colorado working as a ski patroller, crafting outdoor clothing and spending time with her river guide husband Matt and dog Tucker.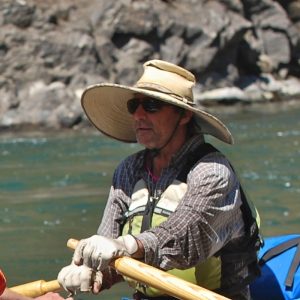 Pepper Tonsmeire
Pepper was one of the original guides at WRO in the early 70s, and he has plenty of good stories about how things used to be in the good old days! Pepper left river guiding in the 80s and moved to the bay islands of Honduras to run a dive resort on Barbareta. He lived the island life for 26 years, which has also left him with many great tales of adventure, from running off thieves on the island to day-to-day life in Central America. After moving back to the states ten years ago, Pepper has traveled extensively in Central America, South America, and Southeast Asia. Pepper has been spending more and more time in Idaho the past few years. After he began guiding a few WRO trips here and there, he decided he likes spending more time on the river.
After 40+ years and the Tonsmeire family still running WRO, we are happy to have Pepper back on the guide roster! Pepper guides on both the Middle Fork and Main Salmon.
Amy Tonsmeire
Amy also spent her summers growing up on the river as part of the WRO family business. She knows the ins and outs of WRO and guides on many of the different rivers we offer trips on. Amy is a graduate from Montana State University in graphic design and business. She still does some freelance design work, but spends most of her time these days managing Sweetwater Hollow, which she founded a few years ago on the banks of the Salmon River as an event venue hosting weddings, concerts and other events in Salmon.
Her passions are snowboarding and hockey in the winter and kayaking and rivers in the summer. She is enthusiastic and loves sharing a good time with others. Amy doesn't guide full-time for WRO anymore as her other business ventures keep her busy, but we are happy to have her when it fits her schedule.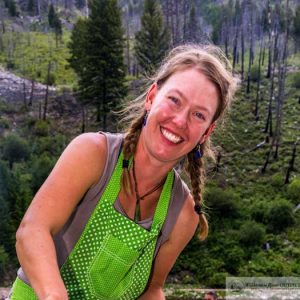 Jessica Blick
Guide
Jessica is originally from Arizona, but she has spent time on rivers around the world. Jessica started guiding day trips in Alaska on the Chilkat River outside of Haines, moving on to multi-day wilderness trips on the Alsek and Tatshenshini. Starting with WRO in 2015, Jess spends most of her summer on the Middle Fork and Main Salmon Rivers. When not running rivers, she spends her time traveling, kayaking, skiing and hanging out with her dog Shady Grove. Recent kayaking trips have taken Jess to Chile, Nepal, Africa and many other places around world!
Want to learn more about WRO?