The Ridgeline Yurts are available for day skiers visiting Lost Trail Ski Area looking for lodging or experienced backcountry skiers looking for a basecamp for their adventure. This site has two yurts, a 24 footer and a 20 foot, located about a half mile from the ski area boundary. Unlike the Stateline, these yurts can be accessed without specialized ski touring gear. We recommend everyone has touring gear in case there is a possible closure on Chair 4. When Chair 4 is running on days Lost Trail is open, with a little pushing of your poles, you can get from the ski area to and from the Ridgeline site pretty easily. For snowboards without touring equipment, snowshoes might make getting to the yurt easier.
About the Structures
The two Mongolian-style yurts at this site can accommodate up to twelve people, making it preferable to the for larger parties (we do require a minimum of six people to reserve the Ridgeline). With a group of six, you still get both yurts for your group. There is a wood stove in each hut, along with firewood, bunk beds and cots, a propane cook stove, center table and chairs, kitchen utensils and supplies, a propane BBQ, and an on-site outhouse toilet system. The yurts sit on a deck platform elevated above the ground.
Two Yurts
Accommodates Larger Groups (up to 12 people)
 Easier Access (shorter ski-in, touring gear recommended, but not required)
 Family-friendly
Ski-in Ski-Out On Mountain Lodging when chair 4 is running
Six Person Minimum
Dinner and Breakfast package available upon request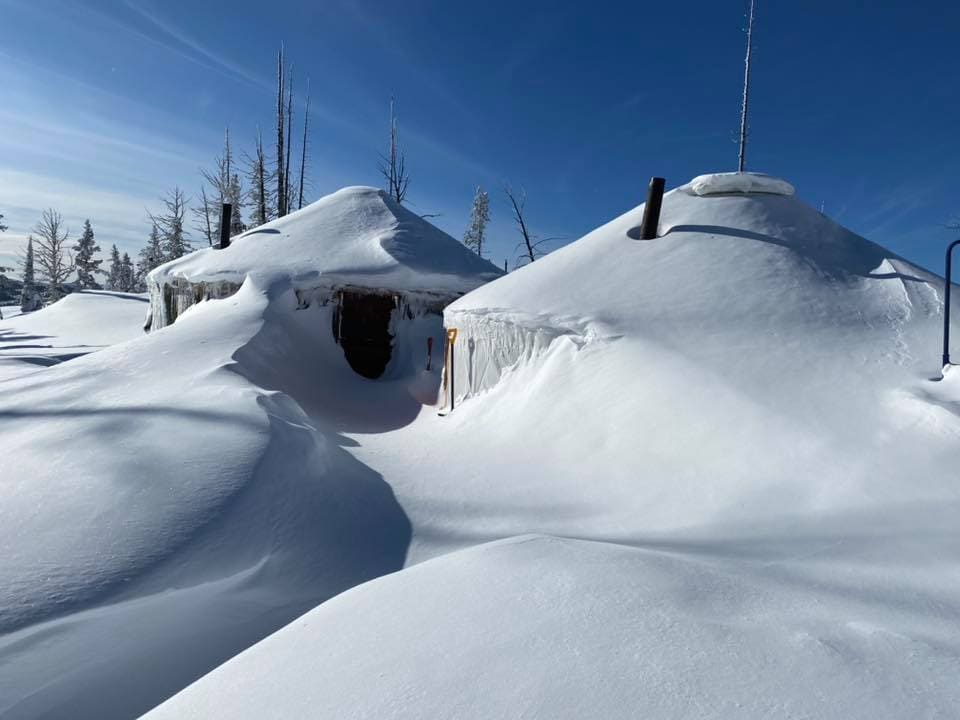 Planning Your Trip
Access
The Ridgeline Yurts are only accessible from Lost Trail Ski Area.
If you haven't been to the yurt before, we can meet you upon arrival at Lost Trail for a brief orientation where we'll give you detailed directions and maps. We do highly recommend using a GPS; it's not called Lost Trail Pass without reason! In a windy blizzard with limited visibility it's very easy to get turned around out there. With many cell phone providers (Verizon especially) there is service in much of the area, but it's not great right at the hut. GPS apps such as Gaia for smart phones are a good back up. (See below for more detailed map and location information.)
You will need to catch Chair 4 to get to the yurt if your reservation begins Thursday-Sunday (or during any time the ski area is operational). You can purchase a one ride lift ticket for $13 during hours of operation or skin up from the parking lot when ski area is closed. The lift stops running at 3:30 or 3:45, and you should plan to be at the lift well in advance. Please factor this into your travel time and orientation plans. DO NOT TRY TO CATCH THE LAST CHAIR, BEING LATE CAN INTERRUPT SKI AREA OPERATIONS.
Snowmobiles are not allowed at Lost Trail Ski Area; do not plan on using snowmobiles or asking the ski area for permission.
Parking
When you turn off Highway 93 into Lost Trail, there will be a small lower parking area before the main lot, just after the fork in the road. There is a sign there, "Stateline Yurt Parking." Please make sure all vehicles are in that area. If you can see the lodge or the main parking lot, you are not in the right spot. We would recommend getting a one ride pass first, then coming back to park.
Meals
You can make your stay at the Ridgeline easy and comfortable by adding on a dinner and breakfast package (advanced planning required)! Meals will be prepared and delivered, but the group is responsible for heating up the food and serving yourselves. Check out the options from the link at the bottom of the page, and let us know if you have any questions.
If you do plan on a complete self-catered stay, you will need to bring all your own food and beverages to the yurt. There are basic spices, oil, and cooking supplies, as well as metal buckets for melting snow into water.
Gear
The yurts do have solar lighting, but you will need to bring a headlamp and we suggest you pack extra batteries. Sleeping pads are provided, but you will need to bring your own sleeping bags and pillow for your stay (WRO can provide sleeping bags and pillows if needed for an additional charge). When you leave, you will need to take everything you brought in back out with you—please do not leave trash or food at the yurt! Shovels are provided and you will be responsible for snow removal from platforms, roofs, and paths during your stay.
For $100, you can also add on a gear haul and have your bags and or food delivered to the hut, avoiding the hassle of trying to pack everything for your trip in a backpack to take on the ski lift. The gear haul add-on means you can travel with just a light day pack and have everything for your overnight stay arrive at the Ridgeline after the resort closes via a snowmobile cargo sled. You should be prepared to ski everything out as the gear haul is one way.
Knowledge/ Experience
People reserving the Ridgeline can easily plan a trip without traveling in avalanche terrain. However, you are still responsible for your own safety in the backcountry on a self-guided trip. If planning a backcountry ski outing, everyone should have basic avalanche gear and know how to use it: transceiver, shovel, probe, and backpack. Read the local avalanche forecast, do your own snowpack assessment and make smart choices. The winter backcountry can be extremely dangerous and you need to have the necessary skills to travel safely in these areas.
Snowcat option
There is also the option to ride a snowcat in and be dropped off right at the Ridgeline Yurts. This option is available through Lost Trail ski area and costs $225 for the first load, and $100 for an additional load. The snowcat can take eight adults and all your gear in one trip, and likely more. The snowcat has a gear basket for additional storage. We will help set this option up, but you can pay them directly and the will meet you at yurt parking at 4:15 to load up.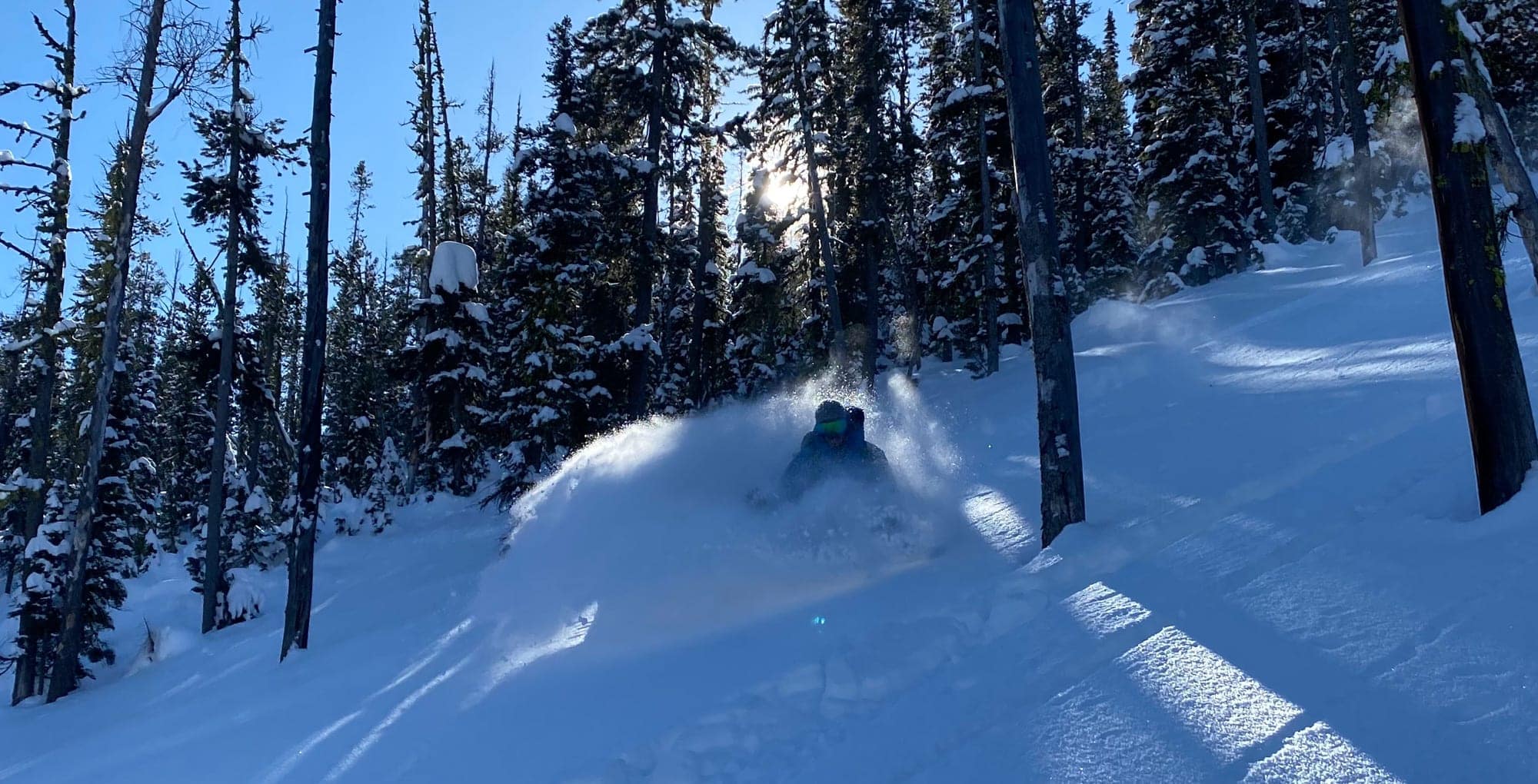 Ridgeline Rental Rates
Daily Rates Monday - Sunday
$45 per person per night (6-person minimum, two night minimum)
Additional people + $45 up to 12 people
*prices are subject to 6% Idaho Sales Tax
*price does not include required $13 one ride lift ticket at Lost Trail if you don't buy a day pass
Snowcat in: $225 first load; $100 additional load
Snowmobile gear haul: $100
Prepped meals:  Inquire about catering options.
A 50% deposit is required at the time of reservation. The online availability calendar will update shortly after your reservation is complete.
Making a Reservation
Book a Ridgeline Yurt
## = indicates available date.
Minimum 2-day stay. Select a start date with availability showing for following day as well.
After checkout your reservation is confirmed and your dates are reserved. You will receive a confirmation e-mail with more information and further instructions. Let us know if you have any issues with the reservation system. You can also contact Jonas Seiler (yurt manager) directly: cell (970)846-9755 (call or text).
Ridgeline Yurt Map Resources
For designing routes, downloading maps, and navigating around the area, we recommend using tools such as CalTopo, Gaia, or FatMap.