2019 Season: In the Rearview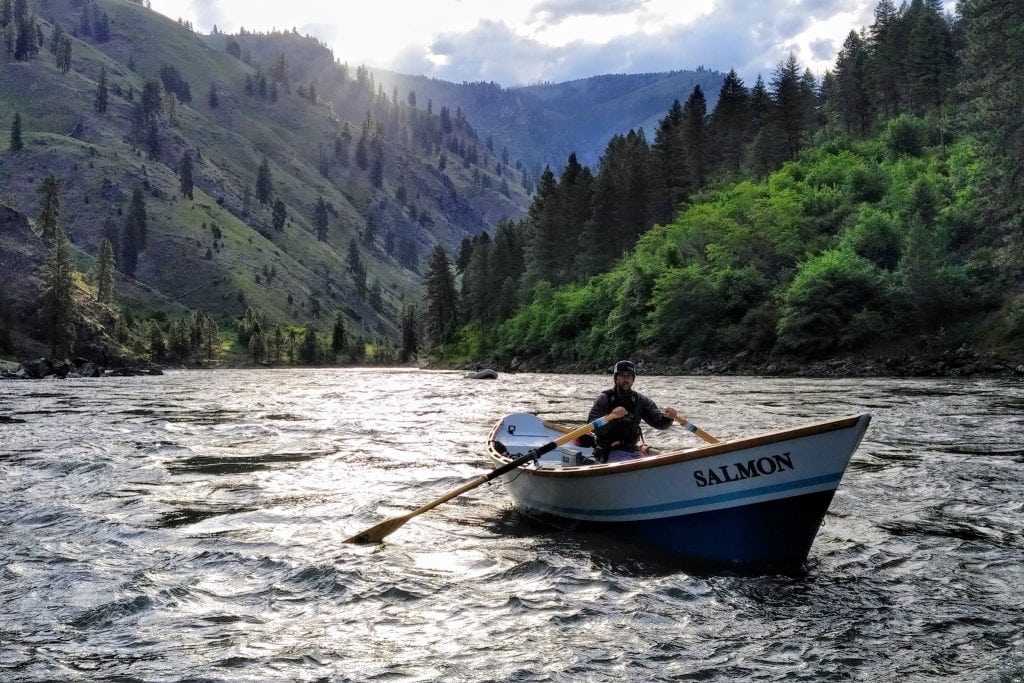 Thinking back on the 2019 summer season, one of the first memories to come to mind is the experience of rowing the new WRO dory down the Salmon River. As a lifelong boatman mostly rowing rafts, I have always wanted a dory. When a friend was selling his this past winter, I decided to add it to the fleet. He built the boat almost ten years ago and logged many river miles on it, but it had a fresh paint job and a new name to match: Salmon. It was pretty special to get this handcrafted Briggs dory out on a few Main Salmon trips this summer—hopefully the first of many more in seasons to come.
Other notable events from the 2019 season: our guest and friend Harold celebrated his 90th birthday on the Middle Fork of the Salmon in August! Pretty inspiring to see someone at his age still getting out into the wilderness with family and friends. [LOKI SENTENCE]. Up north, groups running the Tatshenshini River in Canada and Alaska were treated to some of the most spectacular displays of the northern lights we have seen on one of our trips there. I was jealous I didn't make it to Alaska this summer!
For me personally, the highlight may have been the incredible spring runoff for our desert season in southern Idaho's Owyhee and Bruneau River basins. On our final Jarbidge trip, the last week of May, we were up against low water and almost at our cutoff for being able to run rafts on the small technical river. It just didn't make sense—there was still lots of snow in the mountains and it was raining in the higher elevations. But the river was still dropping. After almost canceling the trip because of the low water, I decided to go for it with all indicators pointing to rising water levels over the course of the six-day trip.
The first two days of our trip, the river continued to drop slightly and we were just hoping to get to its confluence with the Bruneau, where there would be more water. Every major rapid we approached, we wondered if we could get through if the water got any lower. Finally, on our second night, the rush of the rain-on-snow melt event in the higher elevations caught up with us. We woke up with one of our rainfly tie-downs out in the river and the boats shifting in the eddy with the changing river. The water had risen almost two vertical feet overnight!
When you are camped just above Jarbidge Falls, the sound of rushing water and rising levels comes with mixed feelings. On one hand you think, maybe the falls will be at a runnable level…but on the other hand, will we want to run it? At some famous rapids, like the Grand Canyon's Lava Falls, there is hype about the rapid the whole trip and then everyone is rewarded with the excitement of giant crashing waves and big water fun. Boats can tip over or people might fall out—some probably do every day or maybe every week—but every day of the year boats go down Lava Falls. To the contrary, river runners might visit Jarbidge Falls a dozen times and not hit runnable flows, needing to line their rafts along the bank or portage their boats.
So when you show up to Jarbidge Falls and see you have hit prime levels for potentially running this long complicated stretch of turbulent water, your mindset changes. It goes from rehashing the nuts and bolts of moving equipment along the banks and managing ropes in the lining process to pushing off into a very powerful and rowdy rapid alone. You are not necessarily working as a lining team anymore, instead embarking on a solo quest. You certainly have your team helping set up safety precautions, but you are committing yourself to the rapid. The Jarbidge River gets rafted so rarely that few people even know what Jarbidge Falls looks like or where it is. On that final Jarbidge trip of 2019, we hit the flow about as good as it gets. All six boats were run pretty much top to bottom, adrenaline was handed out by the boatload and excitement had by all. Looking back at this epic season as a whole, Jarbidge Falls on that day in the spring of 2019 is certainly one to remember!
Below, we've included some footage of a few runs of Jarbidge Falls.